Key Takeaways
Bitcoin's price is down more than 10% since the weekly trading session started.

A daily closing below $44,000 could lead to significant losses.

The renowned technical analyst dave the wave anticipates a downtrend towards $16,000.
Bitcoin may have confirmed that it has entered a bear market following a recent rejection of the $49,000 zone. 
Bitcoin Enters Bearish Cycle
Bitcoin has kicked off the week in bearish mode after taking a 10% nosedive since the market opened. The leading cryptocurrency shed nearly 5,000 points, dropping from a high of $47,250 to a low of $42,490. 
Although a daily close below $44,000 would confirm a full-blown reversal, one analyst with a track record for calling Bitcoin's price activity believes that further losses are on the horizon. 
The chartist operating under the alias dave the wave predicted in January that Bitcoin would hit a high of $70,000 (it topped at around $64,000 in April and had shed over half of its value by mid-July). Now, dave the wave maintains that BTC has entered a new corrective phase. 
The trader shared a detailed blog post arguing that BTC's price action evolves in the form of cycles that break out into a "random set of mini manias and subsequent corrections, ones that increasingly lessen in volatility, and in turn lead to price discovery."
Following the asset's recent rejection from the $49,000 resistance zone, the technical analyst predicted that BTC could plunge towards the 200-week moving average, which sits at $16,000, in the coming months.
Network Activity Drops
As MicroStrategy and El Salvador have added to the buying pressure behind Bitcoin with recent purchases, the downside potential may be capped. Still, the network activity suggests that interest from retail investors could be waning. 
The number of new daily addresses joining the BTC network has made a series of lower highs over the last two weeks. Roughly 436,000 new Bitcoin addresses were created at the peak on Sep. 16, compared to the 463,000 new addresses created on Sep. 2.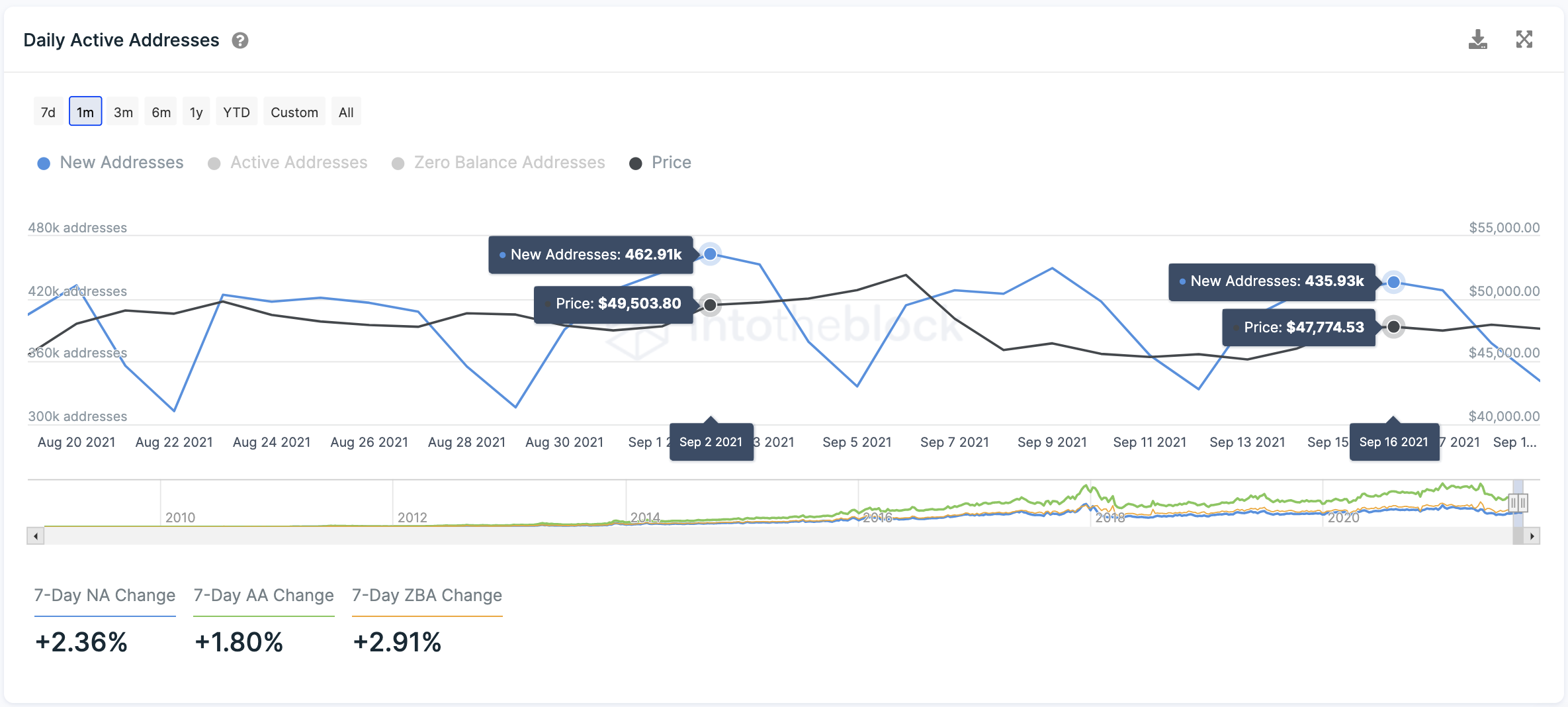 The network's ongoing contraction can be considered a pessimistic signal as it shows a decrease in user adoption over time. Network growth is often regarded as one of the most accurate price predictors. While exponential network growth tends to pave the way for bullish price action, a prolonged period of network shrinking can indicate that prices are about to tumble. 
Until the number of new daily addresses created on the BTC network picks up, the outlook is likely to remain bearish. 
Bitcoin Whales Accumulate as Bitfinex Long Calls Surge
Investors appear to be re-entering the market as long Bitcoin positions increase while whales add tokens to their holdings. Although the recent spike in buying pressure looks encouraging, BTC still…
Bitcoin, Ethereum Suffer Crash But Support Holds
Bitcoin and Ethereum, alongside most altcoins in the market, have incurred significant losses over the past 24 hours. However, both assets are holding above a crucial support barrier that may…
Efficient Market Hypothesis: Does Crypto Follow?
The Efficient Market Hypothesis (EMH) is a concept in financial economics which states that security prices reflect all the available information about a financial instrument. EMH is one of the…
Bitcoin Must Hold Above Crucial Support to Stay Bullish
Bitcoin has breached a critical resistance barrier that could see its price rise by nearly 13% despite recent price fluctuations. Bitcoin Remains Bullish Despite Volatility Bitcoin prices rose above $52,000,…