Open interest and trade volume in the crypto market has increased based on the latest surge in prices, confirmed by Bybt.
The crypto analytic firm explained:
"The total open interest and total trading volume of crypto futures reached the level of March, indicating that the market is further active."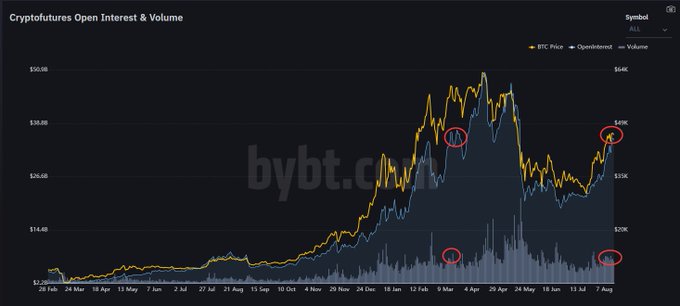 Bybt believes that the crypto market reflects activeness given that trading volume and open interest were on an upward trend. Open interest entails the dollar amount of contracts outstanding.
Recently, Ethereum's perpetual swaps of open interest crossed the $8 billion mark for the first time since May. It, therefore, showed that Ethereum's price and open interest were strongly correlated. 
ETH's upward momentum was boosted after the London Hardfork, or EIP 1559 upgrade, went live on August 5.  
This improvement seeks to make the second-largest cryptocurrency deflationary, given that scarcity was introduced every time Ether was burnt after being used in transactions. Therefore, helping to eliminate inflationary tendencies that the network was accustomed to before. 
The burning of Ether has been reached an all-time high, given that a new burn record of 1,638 ETH in one hour was recently hit.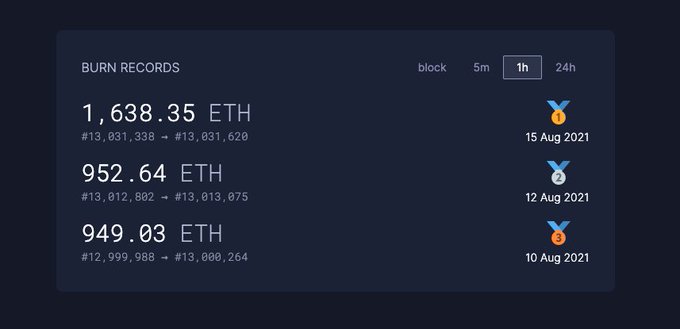 The value of the crypto market hit $2 trillion
According to journalist Colin Wu:
"The total market value of the cryptocurrency market has returned to 2 trillion U.S. dollars, currently about $2.11trillion, which is less than 20% from the peak of about $2.61trillion set on May 12th."
After enduring months of consolidation, the crypto market experienced an uptick in price as low volatility had become the norm. This was partly caused by crypto mining being unwelcome on Chinese soil as miners exited the nation. 
Meanwhile, 76.8% of Bitcoin's supply was held by strong hands or investors who hold BTC for long-term purposes other than speculation. 
Long-term holders have emerged to be significant players in the Bitcoin ecosystem. For instance, they set the accumulation ball rolling by purchasing more BTC, evidenced by their heavy buying during the recent dip of $29.5K. 
Image source: Shutterstock