Cryptocurrencies have enjoyed a rollercoaster ride this quarter as they continue smashing records. Just over a week after Bitcoin hit an all-time high (ATH) of $66,900, Ethereum has followed its footsteps by breaking the record at the $4,400 level. 
On the other hand, SHIB, a Dogecoin-inspired meme cryptocurrency, recently scaled the heights with a 46% increase in just a couple of days. 
Therefore, it shows it is the crypto season as coins continue showcasing their potential. 
Ethereum's record-breaking surge is being attributed to diminished supply and high token circulation. Lucas Outumuro, the head of research at IntoTheBlock, explained:
"ETH price is breaking new highs while a record amount of 16.9K ETH was burnt in the past 24 hours. This also brings ETH's issuance to a record low of -1.1%."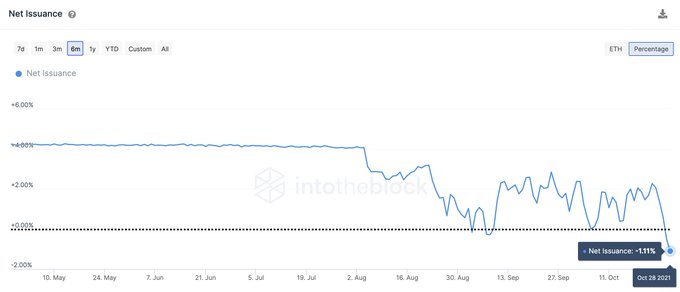 Market insight provider Santiment added:
"Ethereum has just hit a new all-time high of $4,400 after reaching a massive token circulation output day of 1.74M ETH, creating the bullish divergence. On-chain metrics appear quite healthy for the number two coin by market value."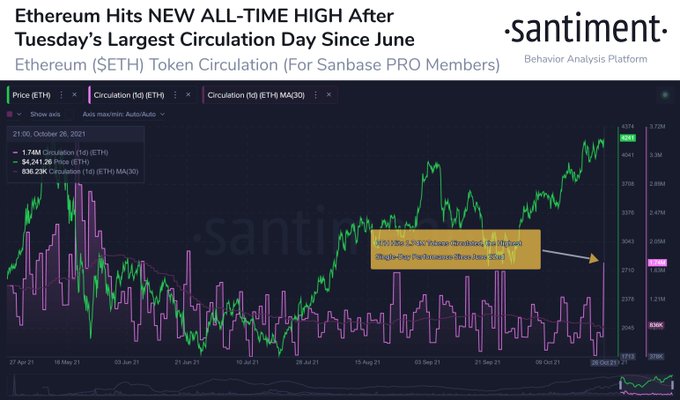 Meanwhile, Ethereum supply in smart contracts recently reached a historic high of 28%. Smart contracts are self-executing agreements based on blockchain technology that decreases the demand for centralized intermediates. They have been in high demand in booming sectors like decentralized finance (DeFi) and non-fungible tokens (NFTs). 
Total value locked in Ethereum 2.0 soars
More investments continue to trickle into the Ethereum 2.0 deposit contract because the total value locked (TVL) reached an ATH of 8,033,922 ETH.
Ethereum 2.0, also known as the Beacon Chain, was launched in December 2020 and was regarded as a game-changer that sought to transit the current proof-of-work (POW) consensus mechanism to a proof-of-stake (POS) framework.
ETH 2.0 is expected to improve scalability through sharding. Furthermore, it is touted to be more environmentally friendly and cost-effective.
With Ethereum hitting a record high, whether this is the start of the altcoin season remains to be seen.
Image source: Shutterstock