Bitcoin (BTC) was a stone's throw away from the all-time high (ATH) price of $64.8K during intraday trading because it was hovering around $62,202, according to CoinMarketCap.
The benchmark cryptocurrency has experienced a significant upward momentum, which enabled it to breach the psychological price of $60K last week. This milestone was last seen in April.
Therefore, the value stored in the Bitcoin network is at a record high based on the realized price. On-chain analyst Will Clemente explained:
"Realized price continues to reach new highs, now over $22,000. This means the amount of value stored in the Bitcoin network is at an all-time high. Realized cap/price is the capitalization of BTC based on the last time a coin moved. (ex: 10 BTC last moved at $1 adds $10 to RC)."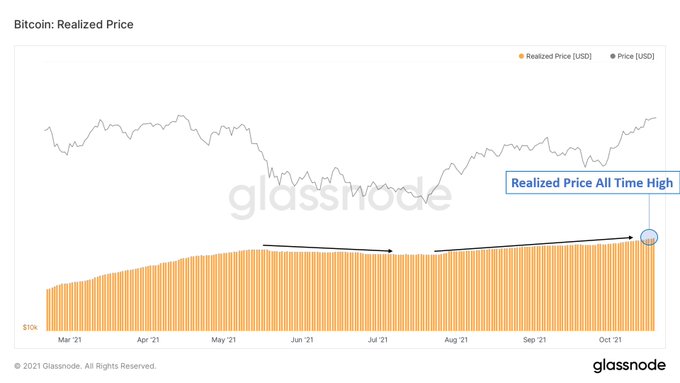 Bitcoin has been experiencing an uptick in activities. For instance, large BTC transactions worth more than $100,000 have dominated the ecosystem, suggesting that institutional-sized investments and whale activities have increased. 
Furthermore, Bitcoin has outperformed commodities so far this year. 
There is more room for Bitcoin to grow
According to market analyst Ali Martinez:
"Historically, when Bitcoin entity-adjusted dormancy flow reached 1M, it anticipated that BTC was approaching a market top. BTC entity-adjusted dormancy flow is at 483K with a lot of room to go up before the next market top."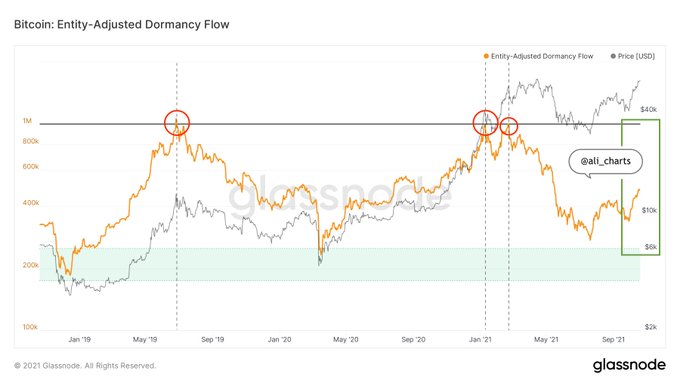 Based on this analysis, there is more room for Bitcoin to grow. Therefore, if BTC is able to breach the ATH level of $64.8K, the price might continue to surge.
Meanwhile, Bitcoin's open interest is experiencing exponential growth. On-chain metrics provider Glassnode acknowledged:
"Bitcoin options volume and open interest have exploded higher over the month of October. Open interest is up an incredible +107% ($6.3B) since the September lows."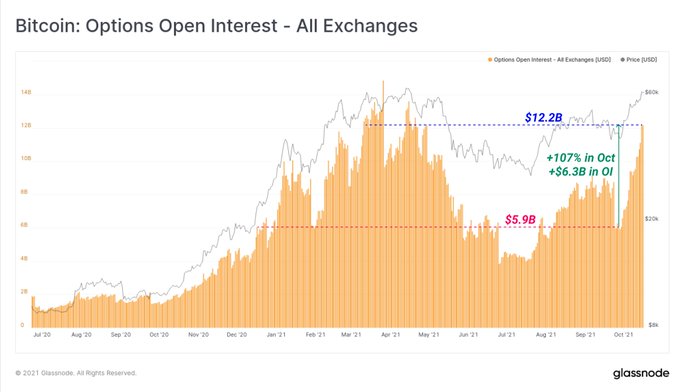 Whether Bitcoin will set a new ATH price soon remains to be seen. 
Image source: Shutterstock