Key Takeaways
Quantum is an art photography launchpad that helps artists mint their work as NFTs on Ethereum.

The platform focuses on accessibility, affordability, and creating a vibrant community around its curated collections.

Minting their work as NFTs is allowing artists to reach and engage with a wider audience than ever before.
Quantum is showcasing top talent from the art photography world through NFTs on Ethereum. While the platform is still in its infancy, demand for Quantum-curated collections is growing fast. 
What Is Quantum? 
Quantum is an art photography launchpad that's helping artists unlock value in their work through NFTs on the Ethereum blockchain. The platform focuses on accessibility and affordability, fostering community engagement around its curated collections and the NFT photography world as a whole. 
Quantum's story dates back to January 2021 with artist and curator Justin Aversano. After encountering difficulties getting his photography displayed in traditional art galleries, Aversano started looking into other ways to promote his work. While browsing for alternative methods of promotion online he came into contact with a pseudonymous crypto native and NFT collector going by the name gmoney, who encouraged Aversano to mint his photography as NFTs on Ethereum. 
With help from gmoney and other members of the NFT community, Aversano made his blockchain debut with a collection of 100 twin portraits called "Twin Flames."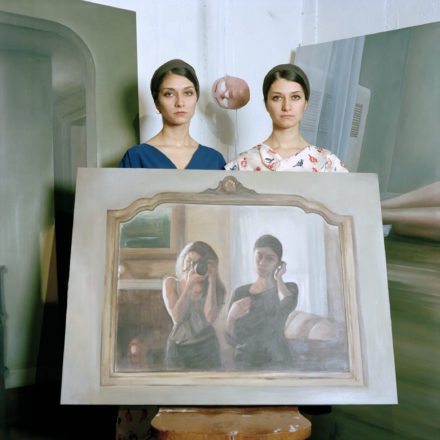 Although NFTs were relatively unknown at the time, all 100 Twin Flames sold out, netting Aversano around $50,000. However, it wasn't until later in the year when NFTs exploded into the mainstream that "Twin Flames" really took off. A robust secondary market emerged for Aversano's work, fueled in part by sales at prestigious auction houses such as Sotheby's and Christie's. The lowest-priced "Twin Flames" NFTs on OpenSea will set buyers back over $750,000 today. 
The success of "Twin Flames" showed proof of concept. Collectors were willing to pay for art photography NFTs, and the new medium allowed further reach than ever before, while also avoiding the gatekeeping associated with the traditional art world. "Twin Flames" started to take off at the height of what became known as "NFT summer," a period of heightened market activity and frenzy for NFTs. After seeing the collection grow in popularity, Aversano and his three co-founders Kris Graves, Alexx Shadow, and Jonas Lamis launched Quantum in August to help pass on their knowledge and help other artists unlock the value in their work through NFTs.
How Quantum Works
In some senses, Quantum is not all that different to the generative art platform Art Blocks. Artists can apply to have their photography featured as a curated collection on the site. Pieces are minted as non-fungible tokens and bought and sold using ETH, Ethereum's native token. 
When Crypto Briefing caught up with Jonas Lamis to hear about how the platform got started, he explained that every collection featured on the platform goes through a strict selection process. "We're looking for sets that tell stories," he said. Quantum aims to represent a diverse range of artists giving equal representation to women and people of color, who sometimes struggle to get their work featured in traditional galleries. Kris Graves heads curation at Quantum, drawing from his 20 years of experience curating photobooks and museum exhibitions. 
Once an artist has been chosen, the next step is figuring out the best way to launch their collection. Quantum has experimented with three different distribution models to find the most successful way to launch collections. 
For Amy Elkin's "Anxious Pleasures," the platform used a mint pass system, where passes were free to claim in a fair launch distribution prior to the collection's release. Joey L's "Ethiopia" launched through a Dutch auction format with the price to mint starting at 3 ETH and decreasing with every Ethereum block until all pieces were sold. A first-come-first-served model has also been trialled, but scrapped due to problems with botting and gas wars.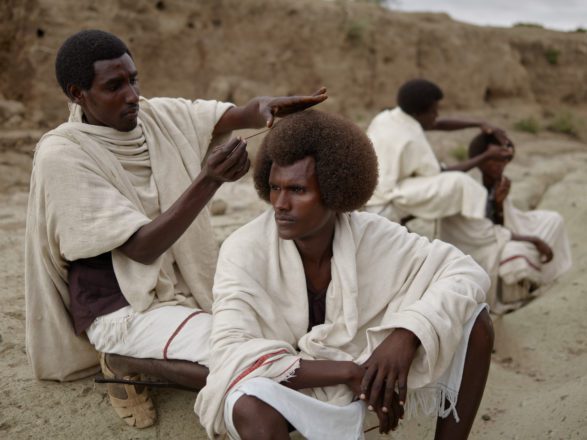 Quantum launches aim to make its drops accessible to as many collectors as possible. "Justin advocates [for] not overpricing art," says Lamis. "He believes that making collections accessible is key to building a strong community around them." As Quantum and its curated collections gain popularity, demand will inevitably rise, but the platform is committed to making its featured art accessible. So far, the majority of pieces on Quantum have minted for less than one ETH (one ETH trades at roughly $4,350 today).
As the art is accessible, a strong community has formed around Quantum and each of its curated collections. This community engagement is most apparent in Quantum's "Rizzo Genesis Collection" by the late Alberto Rizzo. Apart from being the most traded collection on the secondary market, community curation has emerged surrounding attributes in the set. While no official rarity distribution exists, rarity has emerged organically as traits in certain pieces command higher market prices than others. 
Additionally, when minting through Quantum, buyers do not know exactly which piece from a collection they will receive until after the mint. This ensures that drops are fair and helps generate a buzz around highly-anticipated collections containing standout pieces. 
Collectors and fans can learn about and discuss collections on Quantum's Discord server, where each collection has its own dedicated channel. On Discord, community members can engage with a collection's artist, find out more about individual pieces, and organize trades with other collectors. 
Quantum's Philanthropy 
Ethereum is currently crypto's biggest NFT hub. The most sought-after NFTs are generally minted on Ethereum, and OpenSea, the leading NFT marketplace built on Ethereum, has handled over $10 billion worth of sales to date. However, while Ethereum is still a Proof-of-Work blockchain, its environmental impact is high. Currently, the Ethereum network uses around 89 terawatt hours per year to process transactions, about as much energy as Belgium. Many NFT skeptics have raised concerns surrounding Ethereum's energy usage as the space has entered mainstream consciousness. 
Quantum is taking a pragmatic approach to the environmental concerns, donating 2.5% of the profits from every drop to carbon reduction initiatives. Additionally, every curated artist on Quantum agrees to donate a further 2.5% of their profits to a charity of their choice. Charities scheduled to receive donations so far include St Jude's Hospital and WaterAid UK. 
For Quantum, using Ethereum to mint art NFTs is a means to an end, where the primary goal is to give artists exposure and a way to effectively monetize their work. "What we're doing isn't tied to any particular blockchain," Lamis says, hinting that Quantum may be open to exploring chains other than Ethereum in the future. 
Plans for the Future
Going forward, Quantum is hoping to further increase community engagement through several initiatives. Quantum plans to introduce community curation, where holders of Quantum NFTs will get the chance to help decide which collections are featured on the platform next. Additionally, Quantum wants to break its collections into seasons, adding an element of finality to each period of curated drops. The first season of drops is planned to run until March 2022. 
For now, Quantum plans to stick to a schedule of one curated collection drop per week. Competition for a place in Quantum's curated roster is high—Lamis says there is big demand from artists given that NFTs and blockchain technology are starting to disrupt the traditional art world.
Next, the platform will feature Julie Blackmon's "Homegrown" as its special Black Friday drop, a 61-piece collection that Blackmon describes as "modern day images that would find their way onto the cover of the Saturday Evening Post, were it still published." The Black Friday drop will mint for a fixed price of 0.75 ETH, and will try out a new whitelist drop model. Details on how to qualify for the whitelist will be announced prior to the sale. 
Quantum highlights the disruptive power of NFTs and the way blockchain technology has created real-world value. Artists can now reach and engage with a wider audience than ever before, and art enthusiasts have an opportunity to collect pieces without being priced out by middlemen or galleries. 
While NFTs are in vogue right now, there's always the possibility of a market crash, in part because of their close price correlation with the cryptocurrency market. Whether the platform will be able to rival the traditional art world in the years to come is also not yet clear. But for now, Quantum appears to be laying the foundations for an enduring NFT photography market, providing a fresh new platform where artists can reach a wider audience of passionate collectors.
Disclosure: At the time of writing this feature, the author owned ETH and several other cryptocurrencies. 
Fidenza Artist Sells $7M in NFTs That Aren't Yet Minted
Fidenza artist Tyler Hobbs has sold $7M worth of digital art that is not scheduled to exist until December. Even then, buyers will have to be physically present to redeem…
What is a Crypto Airdrop: Why Projects Airdrop Crypto
Crypto airdrops occur when new tokens are freely distributed to different wallets in order to drive initial growth and build a community. They represent a popular marketing tactic that new projects use to spread…
A Pirate Bay Clone for NFTs Has Hit the Web
A critic of non-fungible tokens has created The NFT Bay, a site that mimics the Pirate Bay, in order to distribute NFT images in bulk. The NFT Bay Sets Sail…
Nike Filings Suggest It Is Ready to Explore NFTs
Nike has filed several requests with the U.S. Patent and Trademark Office for branded virtual goods, including shoes, clothing, and accessories.  Nike Prepares For the Metaverse Nike could be the…