Ethereum (ETH) reached highs of $1,770, a scenario has last seen on June 10 as more momentum continues trickling into the network.
Market insight provider Santiment pointed out:
"Ethereum had a big Thursday, soaring above $1,770 for the first time since June 10th. This spike was just two days after ETH hinted at a big move following its AllTimeHigh in address activity, breaking over 1 million for the first time in history."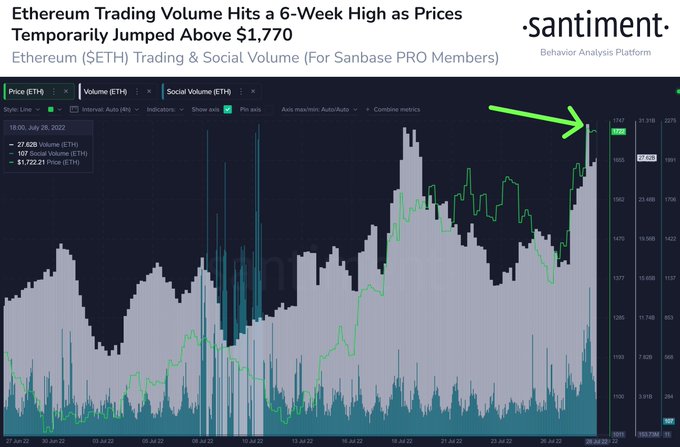 Source: Santiment
Even though Ethereum had retraced to $1,715 during intraday trading, the second-largest cryptocurrency continues to enjoy an uptick in address activities. 
For instance, the number of non-zero addresses has been scaling heights. Crypto analytic firm Glassnode explained:
"The number of non-zero ETH addresses just reached an ATH of 84,626,207."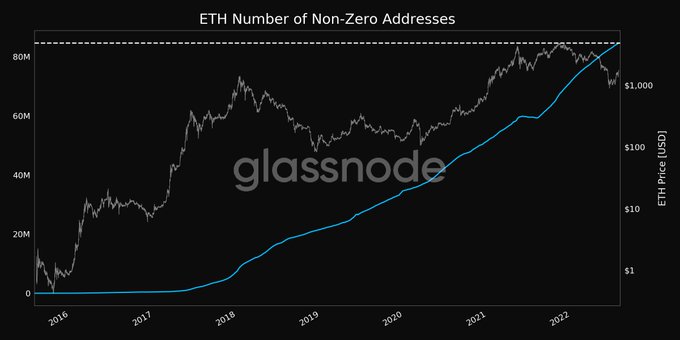 Source: Glassnode
This suggests that more participants are joining the Ethereum network, given that daily active addresses recently reached historic highs, Blockchain.News reported. 
On the other hand, the bullish momentum ETH undergoing has triggered increases in profits to reach a monthly high. Glassnode noted:
"The number of Ethereum addresses in profit (7d MA) just reached a 1-month high of 47,590,069.435. Previous 1-month high of 47,585,913.821 was observed on 25 July 2022."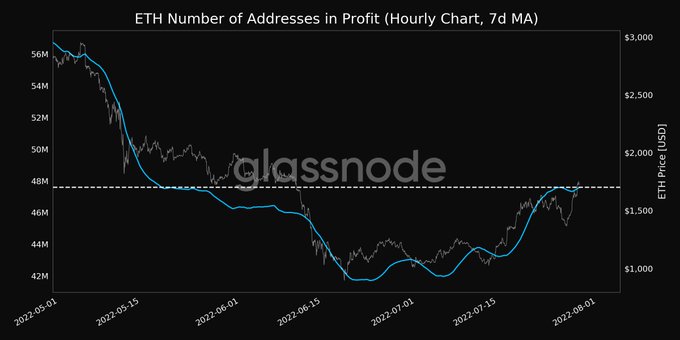 Source: Glassnode
An uptick in address activity coupled with the recent merge news seems to have triggered the current upward trend in the Ethereum ecosystem. 
During a recent developers' call, the most probable date for the merge was announced as September 19. 
The merge is expected to transform the Ethereum network into a proof-of-stake (PoS) consensus mechanism from the current proof-of-work (PoW) framework, which has been elusive for a few years.
Image source: Shutterstock