Bitcoin's uptrend is currently slowing as the leading cryptocurrency has been down by 10.47% in the last 24 hours, trading at $45,213 at the time of writing, according to CoinMarketCap. This outcome is linked to the fact that risk assets are experiencing a global sell-off, and bond yields are surging on the expectation that inflation will continue to rise.
Nevertheless, crypto trader Carl Martin tweeting under the pseudonym The Moon believes that Bitcoin (BTC) may be getting ready for a monumental move because the present price correction may a temporary pullback before the cryptocurrency surges higher.
BTC is not a stranger to numerous steep pullbacks in a bull run, as acknowledged by Bloqport. The crypto data provider explained: 
"Historically, Bitcoin goes through multiple steep corrections in a bull run. Between 2016 to 2017, we saw at least six. On Nov 13, 2017, BTC hit a low of $5,844 then hit $20,000 34 days later."
The crypto trader, therefore, believes that the present price consolidation could trigger a monumental move.
Growing illiquid Bitcoin supply – what this means
Martin's sentiments are echoed by on-chain analyst Rafael Schultze-Kraft who disclosed that Bitcoin's liquid supply is nosediving. This can be interpreted as a bullish signal. He explained:
"The amount of illiquid Bitcoin supply in the network has grown more than the circulating supply since 2017. Meanwhile, liquid supply continues to see a steep decrease. Pair this with the demand from MSTR, Square, Tesla, Grayscale, et al., and understand how bullish this is."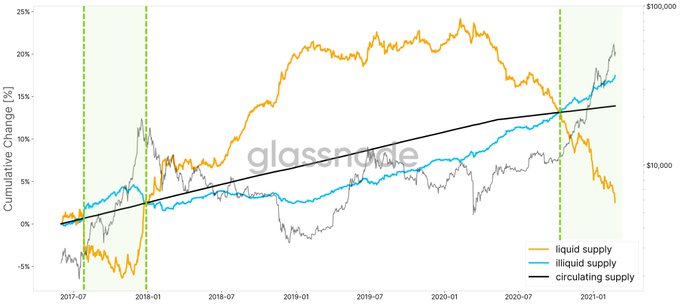 Source: Glassnode
Illiquid BTC supply signifies a holding culture as more participants are storing Bitcoin for speculative or future purposes, which is an indication of bullish behaviourr. 
Jan & Yann, the co-founders of on-chain data provider Glassnode, have also delved into the issue of the current pullback being bullish. They said: 
"Confidence in the continuation of the Bitcoin bull market during this pullback seems to be higher than for the previous dip in Jan. This chart is a great proxy for long-term holders' sentiment."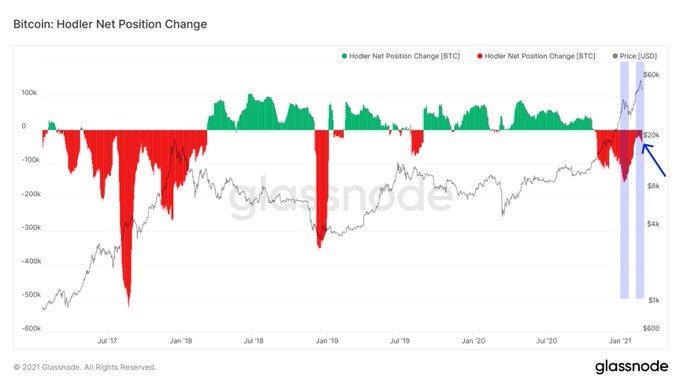 Source: Glassnode
Time will tell how the leading cryptocurrency moves from here. Bitcoin billionaire Tyler Winklevoss has hinted that the current price of $45k "smells of opportunity," perhaps suggesting that this is the optimal time to buy the dip and purchase BTC at a lower price.
Image source: Shutterstock