The back and forth experienced in the Bitcoin (BTC) market might soon come to an end based on various indicators, according to a crypto analyst under the pseudonym PlanB.
PlanB, who is the creator of the Stock-2-Flow (S2F) model, acknowledged:
"Realized Price / Moving Average (RPMA, purple) shows the Bitcoin cycle best. Relative Strength Index (RSI, yellow) is similar but can be misleading at critical times (e.g., 2nd half 2021). The good news: the bear market is almost over. Waiting for RPMA and RSI to start rising again."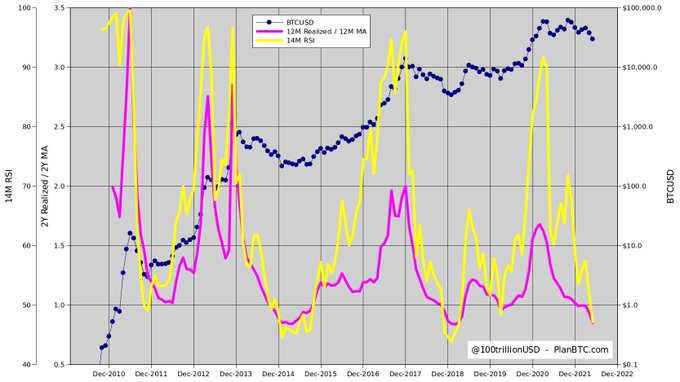 Source: PlanB
Similar sentiments were shared by market analyst Matthew Hyland, who acknowledged that the monthly RSI was approaching historical lows.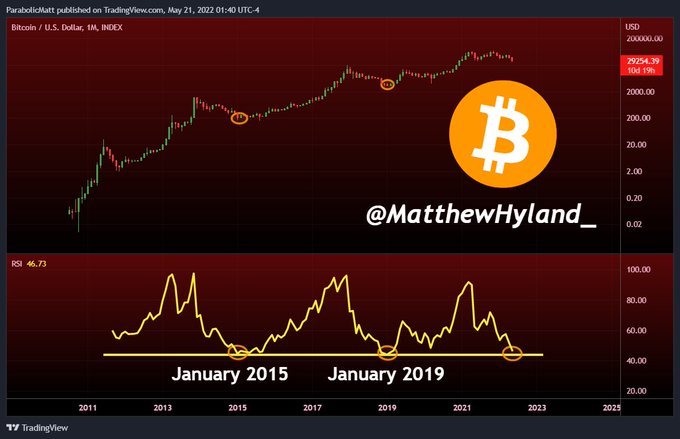 Source: TradingView
The relative strength index (RSI) is a momentum-based indicator that analyzes overbought and oversold conditions. Therefore, this indicator is almost hitting historical lows in the Bitcoin market, indicating an extremely oversold situation, which is often followed by a price rise.
Another bullish signal has popped up because BTC funding rates are negative. Crypto analyst Ali Martinez explained:
"Bitcoin funding rates remain negative, indicating that short positions are dominant. This is a positive sign for a potential rebound in BTC price."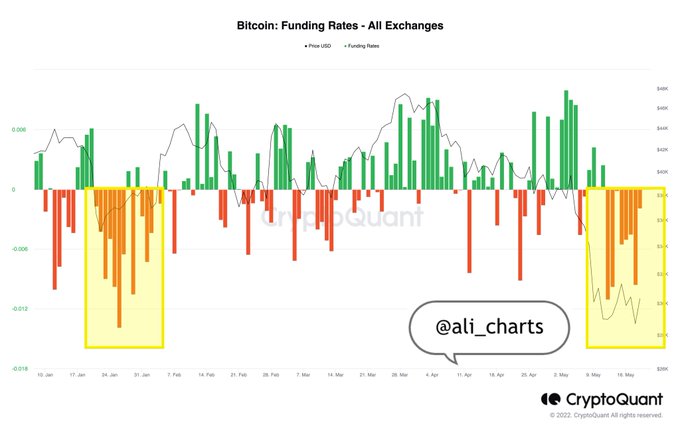 Source: CryptoQuant
PlanB had previously noted that it became crystal clear that Bitcoin's bull run was over in the first quarter of this year because a full-blown bear market had emerged.
Bitcoin needs to hold the $29K level
For BTC to increase its rebound chances, the leading cryptocurrency ought to hold the $29,000 area.
Martinez pointed out:
"The most significant support level for Bitcoin sits between $29,330 and $30,200, where more than 1.23 million addresses hold nearly 850,000 BTC. BTC needs to hold above this demand wall for a chance of rebounding. Failing to do so can lead to the continuation of the downtrend."
Bitcoin was hovering around the $29,425 area during the early hours on Sunday, according to CoinMarketCap. 
Image source: Shutterstock