The latest surge in the crypto market has made Ethereum's perpetual swaps open interest to increase, as disclosed by IntoTheBlock.
The data analytic firm explained:
"Ethereum's Perpetual Swaps Open Interest just reached the highest number since May 19. As Open interest increases with the price of ETH, it points to more longs being opened. Currently, there are $6.16 billion in open positions."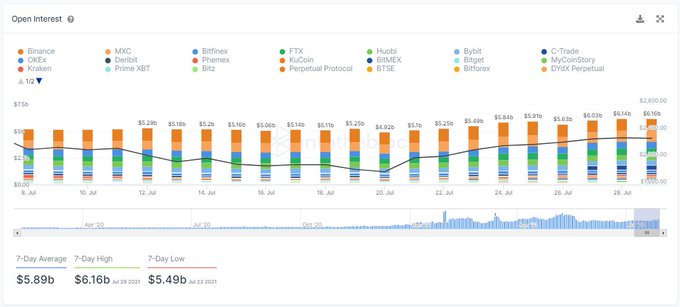 It, therefore, shows that Ethereum price is positively correlated with open interest. 
Ethereum has been experiencing an uptick in different areas. For instance, its crowd sentiment on Twitter recently hit a two-month high after the second-largest cryptocurrency based on market capitalisation jumped above the $2,400 level. 
Furthermore, ETH 2.0 validators topped 200.000. Ethereum 2.0 was launched in December 2020 and sought to transit the current proof-of-work (POW) consensus mechanism to a proof-of-stake (POS) framework.
ETH hourly fees skyrocketed to $2.53 million following the sale of Stoner Cats
Meanwhile, the Ethereum network has been in high demand in the non-fungible token (NFT) sector.
For instance, Stoner Cats, an adult animated short series sold in NFTs, clogged the Ethereum network leading to the loss of more than 344 ETH in gas fees. Moreover, hourly fees surged to $2.53 million.
IntoTheBlock acknowledged:
"With the highly anticipated launch of Stoner Cats, over 10k NFTs were sold with a total value of 3,650 ETH. But what's impressive was the high demand on the Ethereum blockchain, which resulted in over 344 ETH wasted in gas fees. Ethereum Hourly Fees skyrocketed to $2.53 million."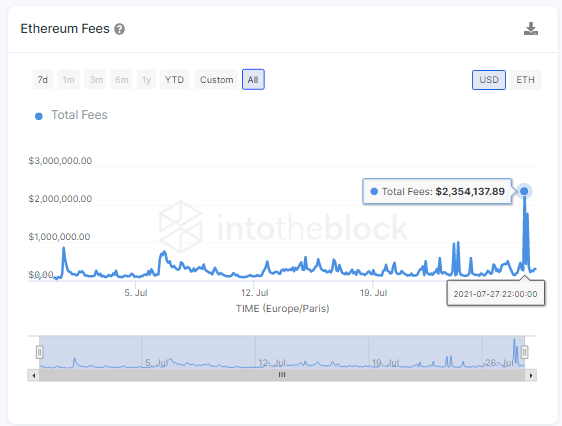 On July 27, a total of 10,420 Stoner Cats in the form of NFTs were put up for sale at 0.35 ETH each, and the entire supply was sold out in 35 minutes. 
NFTs have been playing a pivotal role in the Ethereum ecosystem. Recently, Coca-Cola revealed the launch of the first-ever NFT collectables to honour International Friendship Day, to be held on July 30. 
Image source: Shutterstock