Olympus DAO has been hit hard by the recent market selloff and is quickly approaching its all-time low of $163 set over the summer. 
Olympus DAO Enters Freefall
Investors are fleeing Olympus DAO.
The decentralized reserve currency protocol is down over 87% from its all-time high achieved in April last year amid a selloff across the market. Olympus DAO's downward trajectory has accelerated over the last week, shedding 43.5% of its value. The OHM token is down 24.9% in the last 24 hours, currently trading at $183. It's about 12% away from its all-time low of $163 set during the May 2021 market crash.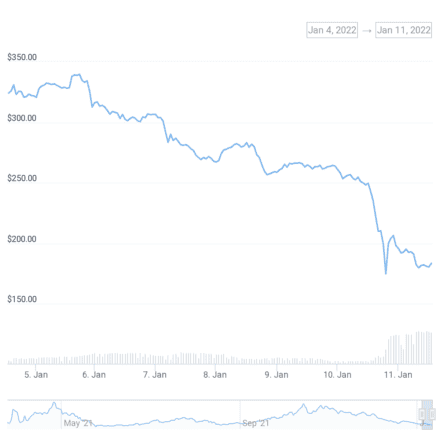 Olympus DAO was the first crypto project to utilize a circular tokenomic structure to draw in liquidity. Thanks to Olympus DAO's clever tokenomic mechanism, investors can earn outsized yields for bonding assets and staking the OHM token. This so-called liquidity "flywheel" has proven effective while the market impulse is bullish and has inspired many fork projects such as Wonderland Money. The Olympus DAO frenzy hit a peak in late 2021 as various digital assets soared to new highs, and by November it had hit a $4 billion market cap. 
However, as the May crash and more recent price action have shown, Olympus DAO appears to suffer more than other projects when the market declines. Olympus DAO's design has attracted criticism from many crypto enthusiasts who liken the project to a Ponzi scheme. This is because Olympus and other such projects need new money to enter the protocol to prop up the incentives for existing investors.  
Other protocols that use a similar tokenomic structure to Olympus DAO have also been hit hard. Wonderland has also experienced similar losses, trading down 34.6% over the past week. On Ethereum, Olympus DAO fork Redacted Cartel is also bleeding despite almost tripling in value since its launch mid-December. The protocol's BTRFLY token dropped approximately 34% during the recent dip, but has since partially recovered. 
Since the start of the year, the crypto market has been hard hit after a weak end to 2021. Bitcoin briefly dipped below $40,000 Monday and is down 10% on the week but appears to have found support at current levels. Ethereum has fared worse, seeing a weekly decline of 17%. The second-biggest crypto asset also appears to have stabilized after testing support at $3,000. The latest dip follows the Federal Reserve's Jan. 5 confirmation that it would hike interest rates, which also shook crypto and stocks. 
However, while most crypto assets are following Bitcoin and Ethereum's downward trajectory, there are some exceptions. NEAR Protocol, a sharded Layer 1 network, has bounced back from temporary weakness, gaining 17% in the past 24 hours. Elsewhere, the privacy-focused Oasis Protocol has also shown strength, rising 16.5% in the same period. Whether these assets will continue to decouple from the wider market remains to be seen. 
Disclosure: At the time of writing this feature, the author owned ETH, NEAR, and several other cryptocurrencies. 
Bitcoin, Ethereum Dip Below Key Psychological Footholds
The two most dominant crypto assets have been shedding points for weeks since reaching all-time highs in November. Today, however, they both dipped below key psychological levels.  Psychological Resistance Almost…
What is a Crypto Airdrop: Why Projects Airdrop Crypto
Crypto airdrops occur when new tokens are freely distributed to different wallets in order to drive initial growth and build a community. They represent a popular marketing tactic that new projects use to spread…
OlympusDAO Fork Snowdog Hit By 90% Crash
Snowdog, a self-styled decentralized reserve meme coin, has been accused of pulling the rug on its community after crashing over 90%. Snowdog Plummets 90% SnowdogDAO has sent investors reeling this…
Olympus DAO Posts Rally, Aiming for New All-Time Highs 
Olympus DAO has bounced off its summer lows and is rapidly approaching a new all-time high. The project's clever tokenomics, strong community, and meme culture are all driving adoption.  Olympus…