Key Takeaways
Electronics manufacturer Samsung has revealed that its latest TV product line will support NFTs.

The platform will let users browse, display, purchase, and trade NFT artworks directly from their TVs.

NFT creators will be able to preset the display settings for their artworks so that everyone can see them in the same, true-to-original condition.
One of the largest electronics manufacturers globally, Samsung, revealed Monday that its new smart TVs would allow users to browse and purchase NFTs.
Samsung Introduces World's First TV-Native NFT Platform
Samsung is adding NFT support to its 2022 television lineup.
According to a Monday press release from the South Korean electronics giant, the MICRO LED, Neo QLED, and The Frame smart TV models will come with a fully-fledged NFT platform for "discovering, purchasing and trading digital artwork."
"In 2022, Samsung is introducing the world's first TV screen-based NFT explorer and marketplace aggregator, a groundbreaking platform that lets you browse, purchase, and display your favorite art — all in one place," the company told The Verge.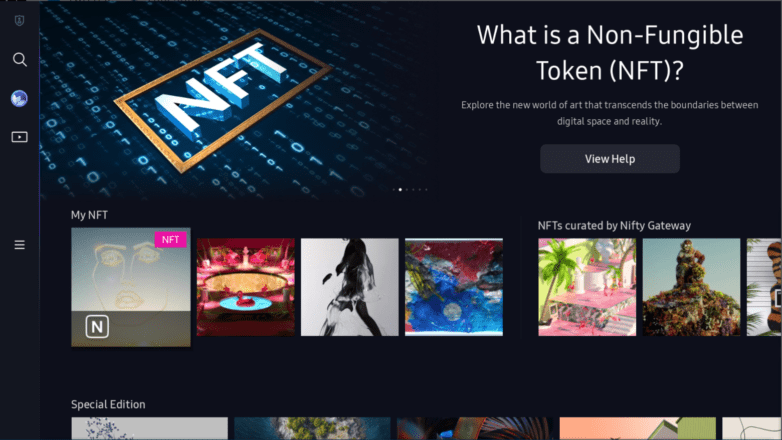 According to Samsung, the platform will let potential buyers preview NFT artworks before purchasing them and explore blockchain metadata to verify their provenance. Creators will also be able to calibrate and preset the display settings for their NFTs so that everyone can see them in the same, true-to-original form.
NFTs have skyrocketed in popularity over the last year, with trading volumes on the largest NFT marketplace, OpenSea, surpassing $15 billion in 2021. As they enter the mainstream, several major companies have started integrating NFTs into their business models. Perhaps most notably, in October, Facebook rebranded to Meta in a bid to help "bring the Metaverse to life." The Metaverse is a new iteration of the Internet that many crypto enthusiasts consider in parallel with NFTs.
The instant messaging platform Discord and game publishing giant Ubisoft also announced NFT plans last year but faced severe backlash from their respective communities. As a result, Discord backtracked from its initial plans to integrate Ethereum and NFTs into its platform, while Ubisoft decided to move forward with its plans despite the criticisms it received.
Samsung's foray into crypto appears to be more geared toward building infrastructure support for the nascent technology to appease its rapidly growing user base. In 2019, the firm introduced the Samsung Blockchain Wallet on its Galaxy phones. Now, it's taking another major step toward adopting blockchain technology by integrating an NFT browser and marketplace aggregator into its premium TV product line.  
Disclosure: At the time of writing, the author of this piece held ETH and several other cryptocurrencies.
Ubisoft Will Pursue NFT Plans Despite Blowback
Ubisoft will continue to pursue non-fungible tokens (NFTs) despite blowback, according to recent statements made to Decrypt. Ubisoft Will Stay True to Principles Despite intense backlash, Ubisoft has no intention…
Web3 – What it is, What it Means, and How We'll Transition
We are at the dawn of a new era of the internet. Bit by bit, this new digital world, and all that it enables, will slowly become a part of…
Discord May Integrate Ethereum But Users Aren't Happy
Discord founder and CEO Jason Citron teased plans for the app to implement Ethereum and NFTs on Twitter yesterday. The move, however, was met with backlash from many community members,…
Discord Scraps Ethereum NFT Plans Following Backlash
Discord is pausing its crypto plans after heavy resistance from users. Discord U-Turns on Ethereum Plans Discord founder and CEO Jason Citron has suggested that the platform will pause its…