As Bitcoin continues ranging between the $29K and $30K zone, the leading cryptocurrency's inflection point is now pegged at $30,000, according to Mike McGlone, the senior commodity strategist at Bloomberg Intelligence.
McGlone pointed out:
"Inflection Points: Bitcoin at $30,000 vs. Nasdaq at 13,000 – An emboldened Federal Reserve (Fed) fighting inflation, despite an almost 30% drawdown in the Nasdaq 100 Stock Index, is a primary headwind for Bitcoin and the crypto market at the start of June."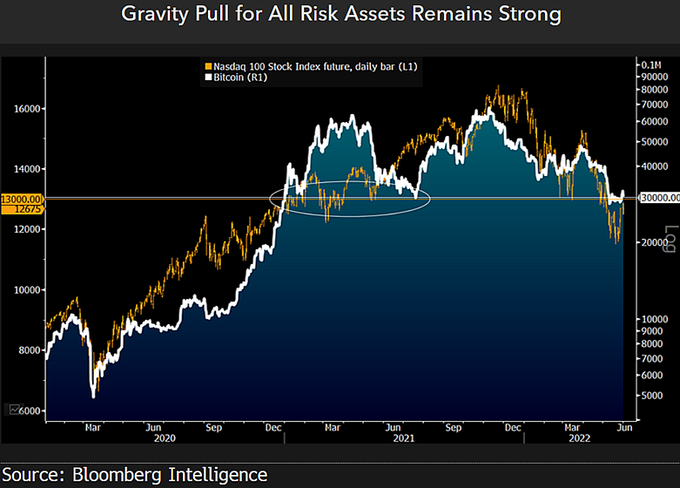 Source: Bloomberg Intelligence
Given that Bitcoin is sitting at an inflection point, McGlone believes that the Federal Reserve's continued interest rate hike is the primary stumbling block to BTC's price surge. 
On May 4, the Fed increased the interest rate by 0.5%, the highest in twenty-two years, to tame soaring inflation. Therefore, this trend might continue until the 2% inflation rate target is achieved.
Since Bitcoin has been hovering around the $30,000 mark for a couple of months, it has emerged as a significant level.
Raj Chowdhury, the CEO of crypto trading platform PayBito, recently commented that BTC was steadily holding the $30K zone despite the stablecoin crash and crypto meltdown because of its unique decentralized proof-of-work (PoW) mechanism. He noted:
"Despite its apparent flaws, Bitcoin's architecture makes it a modern-day marvel immune to global financial policies. The benefits far outweigh the cons, evident from its increasing acceptance across multiple nations and global organizations."
Is Bitcoin staring at a reversal?
Since Bitcoin has been consolidating for some time, crypto analyst Rekt Capital believes the maiden cryptocurrency might be edging closer to a reversal based on the relative strength index (RSI).
The analyst explained:
"BTC RSI is now entering a period that has historically preceded outsized Returns. On Investment for long-term investors. Previous reversals from this area include January 2015, December 2018, and March 2020 All Bear Market bottoms."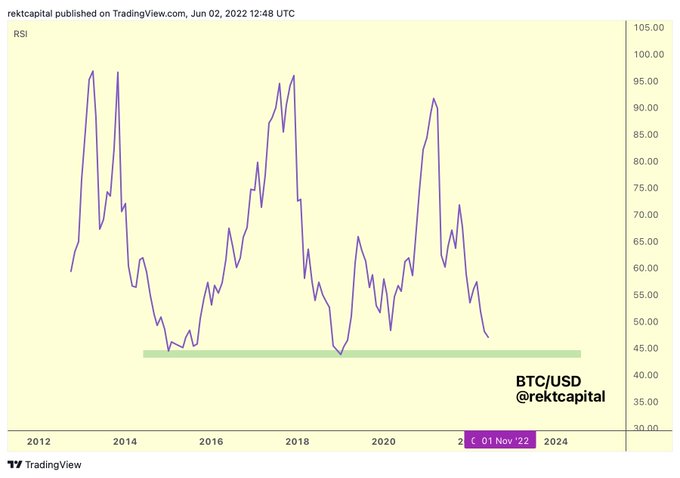 Source:TradingView/RektCapital
Therefore, time will tell how Bitcoin plays out in the short term.
Image source: Shutterstock