The non-fungible token (NFT) market continues to take the world by storm based on the notable adoption and trading volume witnessed.
Data analytic firm IntoTheBlock explained:
"The total volume traded by NFTs has recently surpassed 18m ETH with an aggregate value of more than $54b."
Source:IntoTheBlock
From the above chart, the total volume traded by NFTs stood at $16.94 billion on January 1, 2022, rising by 220% to hit the current $54.33 billion. Therefore, the NFT trading volume has grown exponentially from the beginning of the year.
Furthermore, NFT collections in the Ethereum (ETH) network have risen in 2022. IntoTheBlock noted:
"The number of NFT collections in ETH has increased by 104.5% in 2022. There are now a total of 80,300 collections."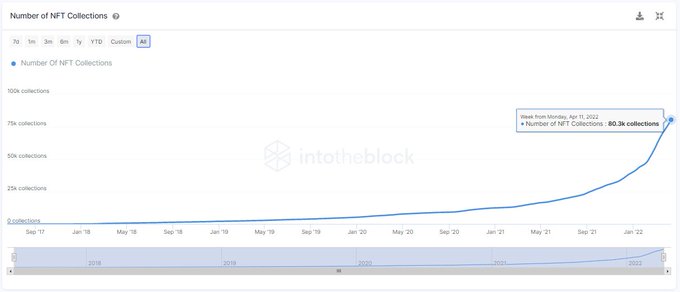 Source:IntoTheBlock
Nevertheless, the adoption of NFTs is still in the early stages. IntoTheBlock pointed out:
"The NFT adoption curve is just starting. Roughly only 4.5% of the ETH addresses with a balance are NFTs holders."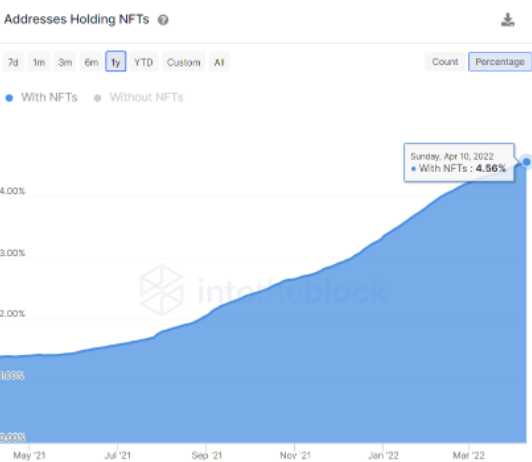 Source:IntoTheBlock
NFT market expected to grow by $147.24 billion by 2026
According to a study by market research provider ReportLinker, the NFT market is anticipated to grow by 147.24 billion during the 2022-2026 forecast period, representing a compound annual growth rate (CAGR) of 35%.  
Per the report:
"The growing number of big brands entering the market, the emergence of fractionalized NFTs, and the growing application of AI in the market will lead to sizable demand in the market."
Furthermore, the NFT market is expected to continue being driven by growing investment in digital assets, soaring demand for digital artworks, and security and ownership of digital assets. 
Meanwhile, the Bored Ape Yacht Club (BAYC) recently entered the big screen based on a series of animated short films called "The Degen Trilogy."
Image source: Shutterstock