The crypto market cap has recently begun to recover regaining $2 trillion. However, an analyst thinks a bear call could be in place given several similarities between the dot-com bubble in 2000 and the current crypto market.
Related Reading | Crypto Market Cap Regained $2 Trillion With Bitcoin Reaching At $45K
Crypto Mirrors The Internet. Good Or Bad News?
Recent studies show that the adoption curve of cryptocurrencies is looking similar to the early adoption of the internet around 1993, which could point in at a hyper-inflection point to happen soon where crypto and its related technologies become a regular tool used in everyone's day-to-day lives. This could call for demand to increase and value to rise with it.
However, an analyst predicts that similarities with the internet could turn into a repetition in history where the crypto market would drop around 80% as the Nasdaq did back in 2000 amidst the dotcom bubble, a result of speculative investments and an overabundance of capital markets funding dotcom startups that later failed to make a return.
Investopedia explains that the dotcom bubble "was a rapid rise in U.S. technology stock equity valuations fueled by investments in Internet-based companies in the late 1990s." The Nasdaq rose five-fold between 1995 and 2000, but then dropped reaching almost 77% in losses by Oct. 4, 2002.
"Even the share prices of blue-chip technology stocks like Cisco, Intel, and Oracle lost more than 80% of their value. It would take 15 years for the Nasdaq to regain its peak, which it did on April 24, 2015."
Analyst Tasha Che shared via Twitter a take that traces the possibility for the crypto market to enter an extended bear market with a similar drop to the Nasdaq's in the 2000s. Che sees these main similarities:
By 2000, the internet had a user base of 413 million people, around 6% of the world's population. Nowadays, around 60% of the global population is using the internet, says Internet World Stats. In parallel, recent data collected by the GWI indicates that 10% of working-age internet users own some form of cryptocurrency, roughly 6% of the current world's population as well.

 Both markets had a multi-year bull run due to the hype over "breakthrough tech" while being "thinly supported by actual use cases".

"Monetary policy headwind". In a similar macroeconomic scenario, in 2000 The Federal Reserve lifted 6 rate hikes by quarter-point in 1 year in an effort to slow down the rising prices of goods and services.

"In 2000 Bloomberg Internet Index reached a peak market cap of $2.9 trillion (about $3.5 trillion to today's dollars)", which then fell to $1,2 trillion by the end of the same year. Chen believes that "Given internet stocks back then cover wider subsectors than crypto today, a $2.5-3 trillion market cap would put crypto at par w/ dot-com valuation then."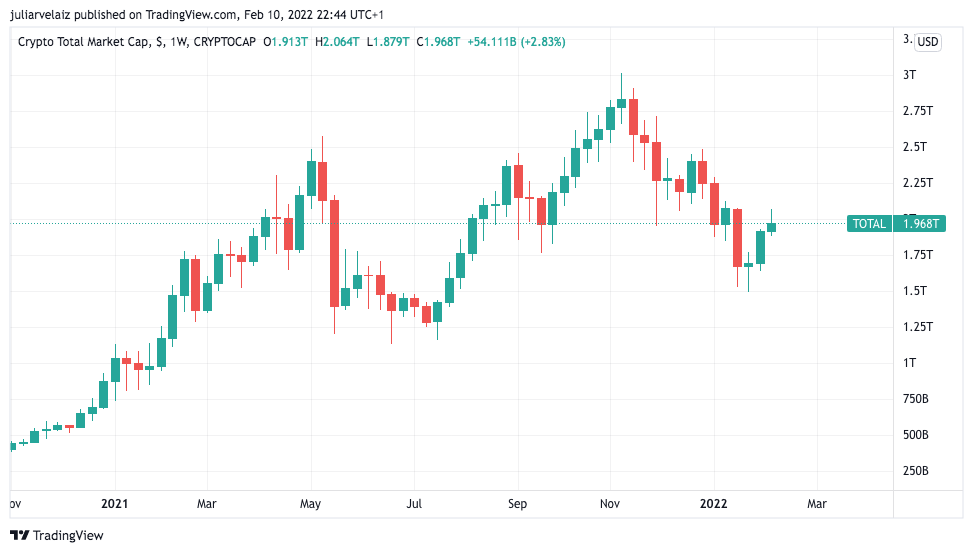 The expert further noted that the two years that Nasdaq dropped 80%, "It was blessing in disguise for internet industry–weeded out opportunists, gave real builders breathing room to build & allowed organic growth. But absolutely brutal for investors."
Chen states that this opinion is not "a straight bear call" given that "history doesn't repeat blow by blow", but with such a similar setup she thinks it may be "in the cards". The missing factor is a blow-off top, which is defined as "a sudden rise in price and volume, followed by a sharp decline in price also with high volume."
If that blow-off top happens in the next few months by going back to the $3 trillion cryptos total market cap range, Chen thinks we would "almost surely see history rhymes."
Related Reading | Crypto Winter Is Thawing With Bitcoin And Ethereum Rebound Signal
The Opposite View
However, other users pointed out that Chen's data does not properly take into account the nearly 5x M2 money supply increase over the last 20 years, which has risen from $4.6 trillion in 2000 to $18.45 trillion in 2020.
Another user noted that the two markets may not be systemically correlated outside of sentiment given that the Internet speculation in 2000 gave foot to the overly inflated market, but the now speculation in crypto could be seen as "a parallel liquid market."
It was also pointed out that crypto represents a different case due to the assets being more reflexive. Growth in usage can reflect in price and increases in price can lead to usage. However, the dotcom bubble did not slow down internet usage as "nobody needed to buy AMZN to use Amazon."