As Bitcoin's price consolidation continues ever since it hit an all-time high of $61.7k earlier this month, Soros Fund Management CIO Dawn Fitzpatrick believes that the leading cryptocurrency is at an inflection point.
As reported by Bloomberg Crypto:
"Dawn Fitzpatrick, head of the legendary asset management shop, sees an 'inflection point' for Bitcoin and other cryptocurrencies."
Her sentiments come at a time when the Bitcoin price is hovering around the $53,746 price at the time of writing, according to CoinMarketCap. BTC traders are, however, showing their resilience as they are continuously buying the dip. 
IntoThe Block has revealed that the next significant support level lies between $49.1k and $50.6k because 328,000 Bitcoins were bought at this range. The digital asset firm explained: 
"The IOMAP indicator reveals that the next big level of support is between $49.1k and $50.6k, where 685k addresses previously bought 328k BTC. If this range fails to sustain, the 781K addresses previously buying between $46k and $47.5k will provide support."

IntoTheBlock acknowledged that Bitcoin could dip further to the $46-47.5k price level if this does not hold
Bitcoin options worth $6 billion scheduled to expire
BTC options valued at $6 billion are expected to expire on March 26, which may trigger a massive price volatility. Some traders anticipate the price will sink to the $44k level based on the 'max pain' theory, which indicates that influential and institutional players might be inclined to push the price in their favoured direction. 
Nevertheless, with the expiry of these options, a new support level may be formed, and this could trigger a bullish price surge. These sentiments are echoed by crypto analyst Michael van de Poppe who believes that the path to $68k and $83k is still open.
He acknowledged:
"Most likely, Bitcoin hit support, and we're going to move sideways for a while, just after halving 2020. Next to that, the path to $68,000 and $83,000 is open. Finally, the bearish divergence is invalid so far, and we've got a hidden bullish divergence."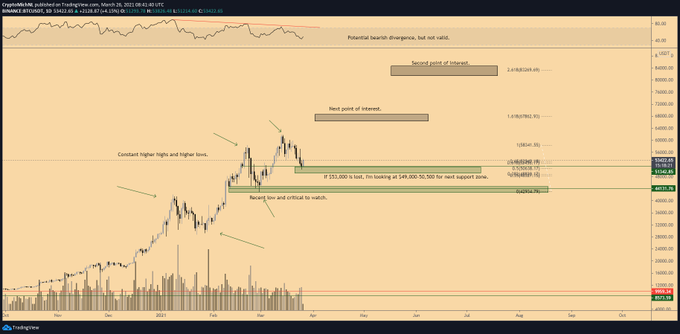 Time will tell how Bitcoin shapes up based on the expiry of these options. 
Image source: Shutterstock