Based on Bitcoin's transaction history, outstanding support stands at around $42.2K as many addresses bought coins at this level.
Market analyst Ali Martinez explained:
"Bitcoin transaction history shows that the most significant support level sits at $42,260, where 1.33 million addresses bought over 611,000 BTC. On the other hand, there is a stiff supply barrier between $45,640 and $47,000, where 2 million addresses hold 1.39 million BTC."
Bitcoin's upward momentum has diminished, given that it was down by 4.38% in the last 24 hours, hitting $43,495 during intraday trading, according to CoinMarketCap. 
The leading cryptocurrency needs to hold the $42,260 level to avoid a further drop.
Illiquid supply goes through the roof
Despite the retracement experienced in the BTC market, illiquid supply has been going up for the last 214 days. Glassnode co-founders under the pseudonym Negentropic stated:
"Bitcoin's illiquid supply has been increasing for the past 214 days. Surpassing the 2020 accumulation. BTC selling pressure is fading."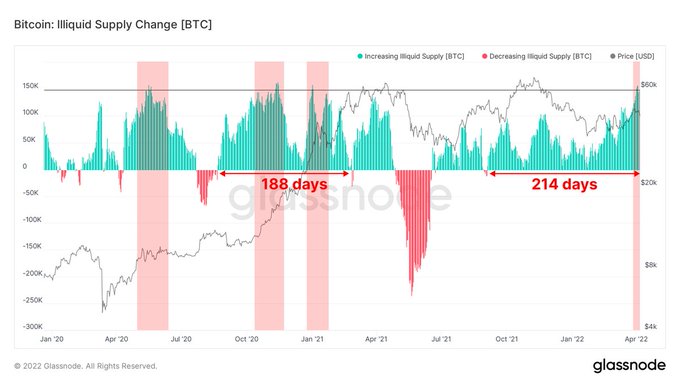 Source: Glassnode
This analysis suggests that selling pressure in the Bitcoin market is diminishing based on the surge of immobile BTC supply.
Moreover, according to crypto analyst Allen Au, long-term holders have not been relinquishing their investments, so the present correction should not be heavy.
He noted:
"Unlike the recent highs, long-term hodlers aren't selling their BTC as there's no spike in their Spent Output Age Bands (SOAB) so the correction shouldn't be deep. As the next FOMC meeting is 1 mounth away, markets should stabilize after sell-off. BTC should hold its 50 EMA ($43K) or else at $42K & bounce."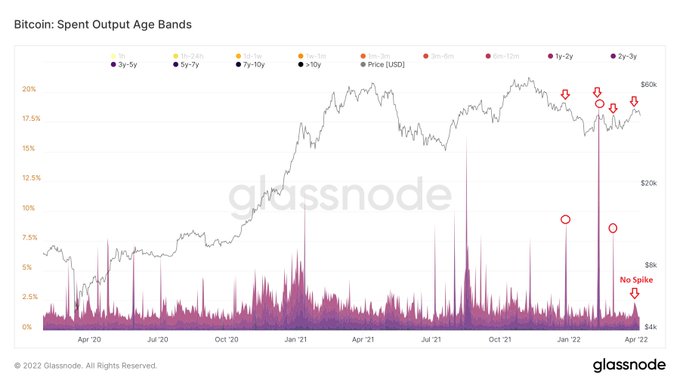 Source: Glassnode
Therefore, the analyst expects the Bitcoin market to stabilize by holding the $43K or $42K level, given that the Federal Open Market Committee (FOMC) will occur in a month.
As a Federal Reserve (Fed) branch, the FOMC determines the monetary policy's direction regarding open market operations. 
Meanwhile, Bitcoin miners have consistently accumulated more coins for nearly a year, indicating a behavioural change. 
Image source: Shutterstock