The Ripple Team has released a statement in response to the events of the past week or so. In it, they maintain their innocence against all charges levied by the U.S. Securities and Exchange Commission (SEC).
They added that the "muddied waters" have adversely affected innocent XRP holders, who they claim, have no connection to Ripple. What's more, the firm accuses the SEC of acting against their own manifesto in continuing to pursue this case.
"their lawsuit has already affected countless innocent XRP retail holders with no connection to Ripple. It has also needlessly muddied the waters for exchanges, market makers and traders. The SEC has introduced more uncertainty into the market, actively harming the community they're supposed to protect. It's no surprise that some market participants are reacting conservatively as a result."
The statement was not enough to stop the XRP price from falling further. Bears continue to dominant, but the $0.17 support level did hold yesterday, leading to a daily close above that level at $0.22.
However, mounting sell pressure today sees a continuation of the downward trend. Currently, the price of XRP is down 7% to $0.20301.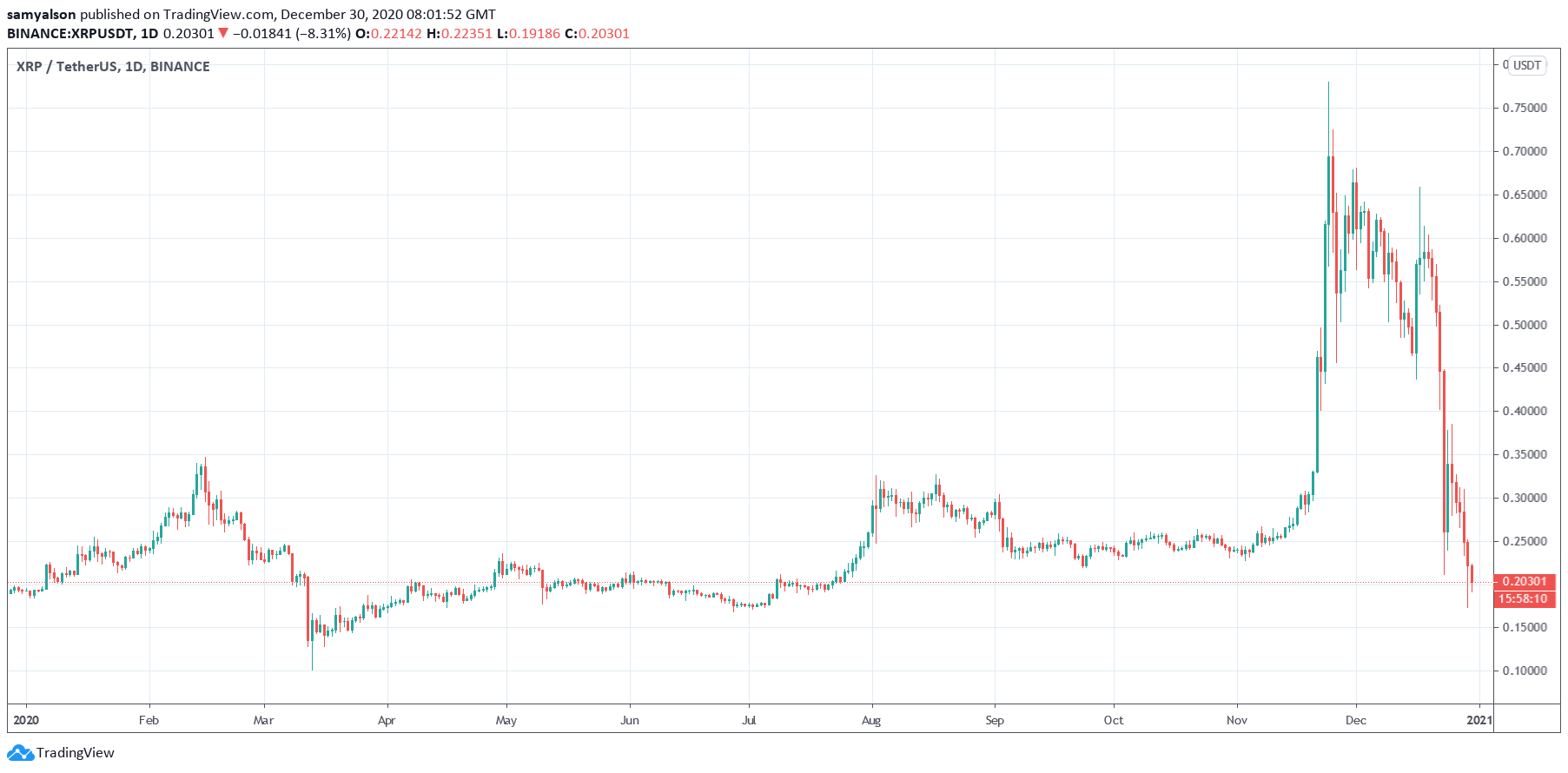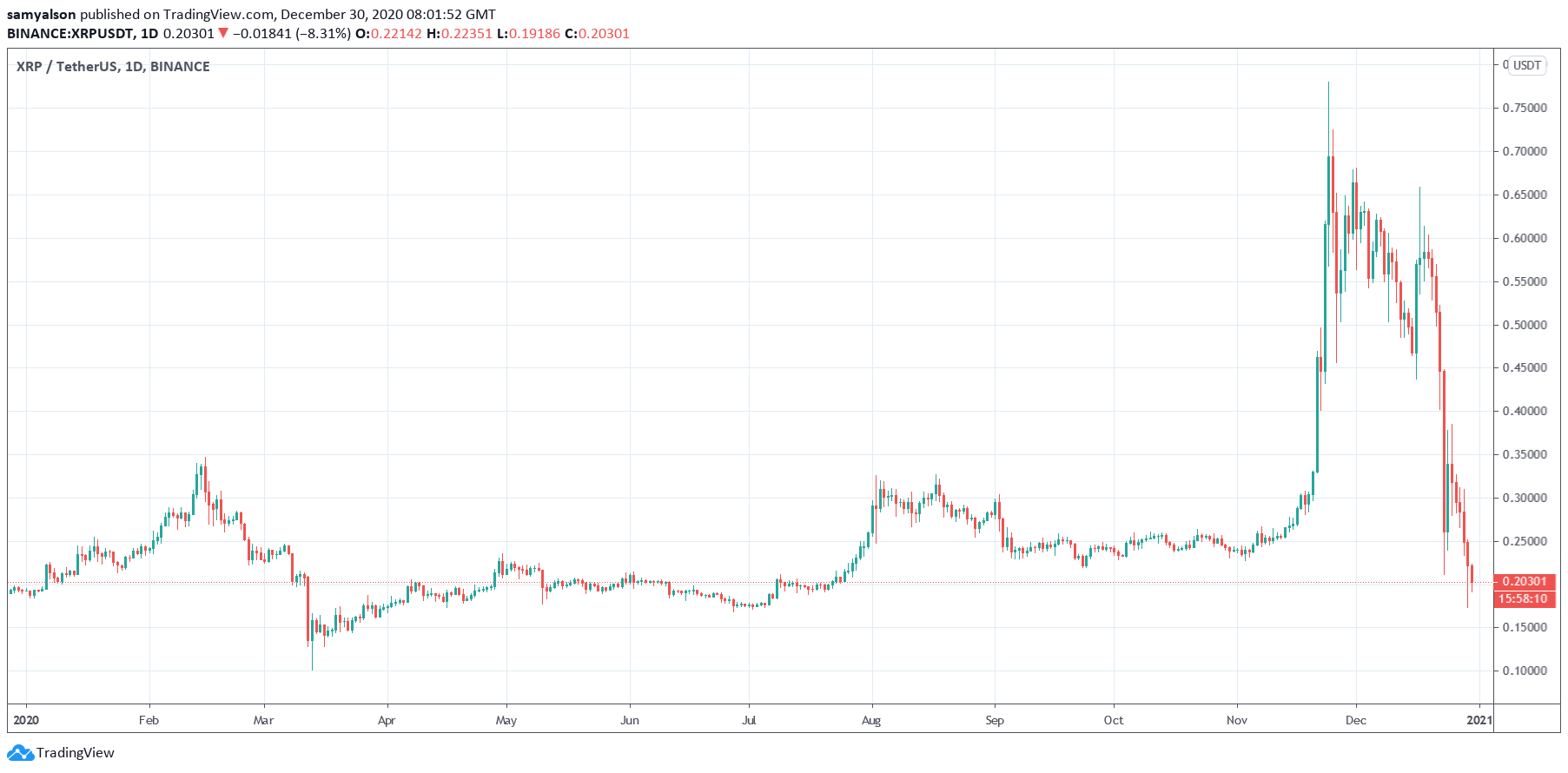 Source: XRPUSDT on TradingView.com
The Exodus of Crypto Exchanges Continues
The announcement by Coinbase that it will suspend XRP trading was a massive blow for Ripple. The firm said:
"We will continue to monitor legal developments related to XRP and update our customers as more information becomes available."
Today sees an escalation of the exchange exodus as Bittrex follows suit in suspending XRP trading.
From January 15, 2021, Bittrex will remove all four available XRP trading pairs on its platform. Much like Coinbase, wallet transfers in and out will remain functional after the removal date.
Both Coinbase and Bittrex have drawn criticism because a global suspension makes no sense when the SEC has no jurisdiction over non-U.S. customers.
However, as mentioned in Ripple's response to recent events, exchanges that have bailed are exercising extreme caution to avoid any legal repercussions during this period of uncertainty.
Ripple Pre-Trial Conference Date Set
A pre-trial conference to hear the Ripple securities fraud case is set for February 22, 2021.
Pre-trial conferences are used to ensure a smooth trial, such as establishing facts, simplifying the issues of the case, and making document submission schedules.
But the judge may also use the pre-trial conference to help settle the case, therefore avoiding trial altogether.
"A pretrial conference may be conducted for several reasons: (1) expedite disposition of the case, (2) help the court establish managerial control over the case, (3) discourage wasteful pretrial activities, (4) improve the quality of the trial with thorough preparation, and (5) facilitate a settlement of the case."
However, Garlinghouse has previously said he wants the opportunity to clear his and Ripple's name in court. He upholds the view that this is necessary to defend the crypto industry.
With that in mind, given that no party is backing down, it looks as though we are in for a long and drawn-out case. What will happen to the XRP price in the meantime?