Bitcoin (BTC) continues to be in the red following its slip below the psychological price of $40,000, a scenario not seen in the last two weeks.
The leading cryptocurrency was down by 6.38% in the last 24 hours to hit $36,732 during intraday trading, according to CoinMarketCap.
Analysis by IntoTheBlock shows that short-term holders have been the primary catalysts of the present leg down as they continue liquidating their BTC investments. The market insight provider explained:
"Short-term holders continue to be the main driver of BTC volatility. While long-term holders remain unfazed, the balance held by traders – addresses less than 1 month, are moving almost in tandem with the price action. Since Feb 14, they decreased their holdings by 8.7% to 1.55m BTC."
Source: IntoTheBlock
Some of the factors that might have triggered short-term holders to be on a selling spree entail the Ukraine-Russia tension, given that a full-blown war between the two nations seems likely. 
Things have gotten worse given that Russian President Vladimir Putin signed a decree recognizing two breakaway regions of eastern Ukraine as independent entities. Previously, Ukraine legalized Bitcoin because it plays an instrumental role in aiding donation efforts needed to boost its army.  
On the other hand, low BTC network activity triggers the current drawdown because of slashed demand. Economist Jan Wustenfeld stated:
"While the supply of Bitcoin is becoming more illiquid, which is good, network activity remains relatively low and partially even decreases further. Considering the total on-chain transaction value of $BTC since mid-2021 it has been low."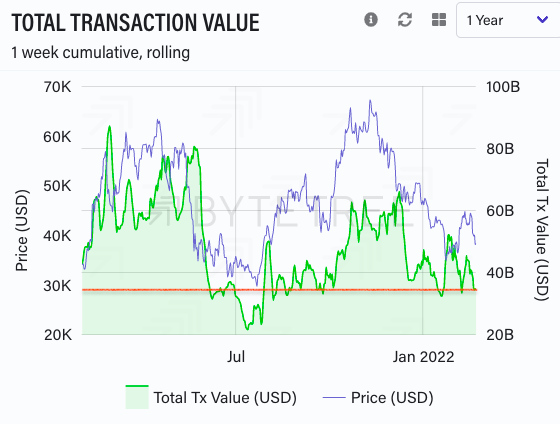 Source: Jan Wustenfeld
Therefore, BTC demand should be rejuvenated so that the leading cryptocurrency can be back to winning ways. 
Image source: Shutterstock