Key Takeaways
Daniele Sestagalli's Wonderland.Money project has suffered a major liquidation cascade.

TIME is currently trading 95% below its all-time highs, down from $10,000 to $500.

On the other hand, MEMO is currently trading at $27,300, significantly below its backing price of $41,125.
Wonderland's TIME has plummeted around 40% in 24 hours. It's currently trading at around $500 per coin, down 95% from an all-time high above $10,000.
Wonderland's TIME Trades Below Backing
Cascading liquidations have pulled TIME below its supposed intrinsic value.
Daniele Sestagalli's Wonderland Money project is suffering hard today as the price of its native token TIME has briefly hit record lows. 
On-chain data suggests that the reason for the sudden price drop is a cascade of liquidations triggered by the broader decline of cryptocurrency prices. Due to the disproportionately high leverage many TIME holders take on, the broader drop in crypto valuations has hit the Wonderland protocol harder than most. 
While Bitcoin and Ethereum are currently trading 45% and 48% down from their respective highs, TIME is down roughly 95%, marking a significant drop in price from $10,000 to around $500 at the time of writing.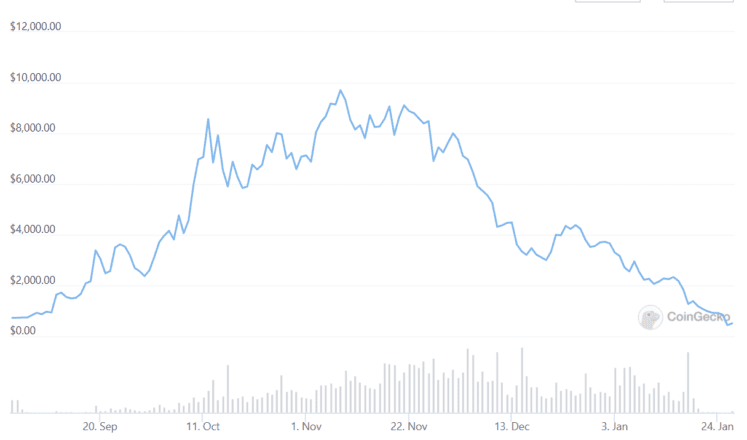 In decentralized finance, liquidations typically occur when traders cannot repay their loans on time, and the protocols automatically liquidate or sell their collateralized assets. In Wonderland's case, TIME holders typically stake their tokens for rebasing and yield-bearing MEMO tokens. They can then use the tokens they earn as collateral to borrow the MIM stablecoin. 
To further increase yields, MEMO holders can use their borrowed MIM tokens to buy more MEMO, use that as collateral to borrow more MIM, and repeat the process multiple times, increasing the leverage with every subsequent loop. However, when leverage is so high, small downward moves in MEMO's price can trigger liquidations. Wonderland typically responds to this by selling MEMO to cover the loans, further increasing the selling pressure on the token and triggering cascading liquidations.
Wonderland's TIME tokens are issued against and backed by a basket of assets, which theoretically give the tokens some intrinsic value. This means that if the price of TIME or MEMO dropped below the backing price, the protocol would use the treasury assets to buy back the tokens and bring them back to their "fair value." Following the liquidation cascade, the pseudonymous Wonderland developer Sifu pledged to use the treasury's funds to rebuy MEMO in Wonderland's Discord server. 

Nonetheless, MEMO tokens are currently trading below their backing price, catching many Wonderland community members by surprise. MEMO is currently trading at around $28,000, while its backing price according to Wonderland's dashboard is around $41,400.
Many MEMO holders used the token's backing price as a reference point when adjusting their liquidation price on the assumption that the protocol would step in and protect the token's price from falling past that point. However, despite the $5 million buyback conducted by the project's developers this morning, MEMO continued trading at a significant discount to its intrinsic value, further fueling the liquidation cascade.
Quick correction. The initial link posted directs to Sifu's wallet (Wonderland cofounder) which has been liquidated for $1.6M so far today. This link is the link to Dani's wallet which has been liquidated for $15M so far.https://t.co/7SnKGevKlr

— FreddieRaynolds (@FreddieRaynolds) January 25, 2022
According to on-chain data shared by DeFi pundit going under FreddieRaynolds on Twitter, Wonderland's founder Daniele Sestagalli and chief developer Sifu were also victims of liquidations. Namely, Sestagalli and Sifu allegedly suffered $15 and $1.6 million in liquidation losses respectively.
In addition, Sestagalli's decision to switch his Twitter account to private after hitting 300,000 followers on Monday only added fuel to the fire. Following this morning's crash, Sestagalli switched his account back to public and addressed the situation, noting that he's "working on reestablishing everything to normal."
Wonderland's MEMO token is still trading at a significant discount to its backing.
Disclosure: At the time of writing, the author of this feature held ETH, ICE, and several other cryptocurrencies.
Terra, Abracadabra Stablecoins "Are Going to Zero": Maker …
MakerDAO founder Rune Christensen described the UST and MIM stablecoins as "solid ponzis" in a tweet earlier this morning. Abracadabra.Money and Terra founders Daniele Sestagalli and Do Kwon immediately fired…
DeFi Project Spotlight: Abracadabra.Money, DeFi's Magic Money Sp…
Abracadabra.Money is a lending protocol that allows users to deposit interest-bearing assets as collateral to borrow a stablecoin called Magic Internet Money that can be used across multiple blockchains. Abracadabra.Money…
Investing Survey: Win A $360 Subscription To Pro BTC Trader
We're doing this because we want to be better at picking advertisers for Cryptobriefing.com and explaining to them, "Who are our visitors? What do they care about?" Answer our questions…
What Are Andre Cronje and Daniele Sestagalli Building on Fantom?
Andre Cronje and Daniele Sestagalli, two of the most venerated figures in decentralized finance, have hinted at a new product and token dropping on the Fantom blockchain this month.  Andre…