On-chain data shows massive Ethereum outflows of 60k ETH on spot exchanges. Such deeply negative netflows could be a bullish signal for the coin.
Ethereum All Exchanges Netflow Shows Huge Negative Spike
As pointed out by a CryptoQuant post, the Ethereum all exchanges netflow showed a negative spike yesterday as 60k ETH exited exchanges.
The all exchanges netflow is an indicator that's defined as the difference between the exchange inflows and the outflows.
The "inflow" is the amount of Ethereum moving into exchanges from personal wallets. An increase in this value implies an increase in the supply of ETH for selling purposes or altcoin purchasing.
The "outflow" is just the opposite; it's the number of coins exiting exchange wallets. When this metric moves up, it might mean there is a buying pressure in the market as more investors store their coins outside exchanges.
Related Reading | Hoskinson Celebrates Ethereum Smart Contracts On Cardano, How This Company Enables It
As the netflow is the inflow minus the outflow, a positive value indicates more ETH is moving into exchanges than out. Similarly, a negative value implies the contrary.
Now, here is how the chart for the Ethereum all exchanges netflow looks like:
The Ethereum netflow shows a massive negative spike | Source: CryptoQuant
Looking at the above graph, it seems like the indicator is showing a negative spike at the moment. But what could such a value mean for the price?
Related Reading | TA: Ethereum Faces Hurdles, What Could Trigger Fresh Rally
Well, as explained before, when the netflow turns negative, it means the net amount of ETH is directed out of exchanges than in.
Investors pulling out their coins from exchanges could be because they feel a buying pressure in the market right now. Such a situation might mean there is a bullish sentiment among the market.
Will There Be An ETH Supply Shock Soon?
Some analysts think an Ethereum supply shock might hit soon as massive amounts of the crypto continues to be burnt after the London hardfork.
The ETH exchange reserve, an indicator that shows the total number of coins held on exchanges, is also continuing to decline as outflows dominate the inflows.
At the time of writing, Ethereum's price floats around $3.1k, down 3% in the last 7 days. The below chart highlights the trends in the price of the cryptocurrency over the past three months.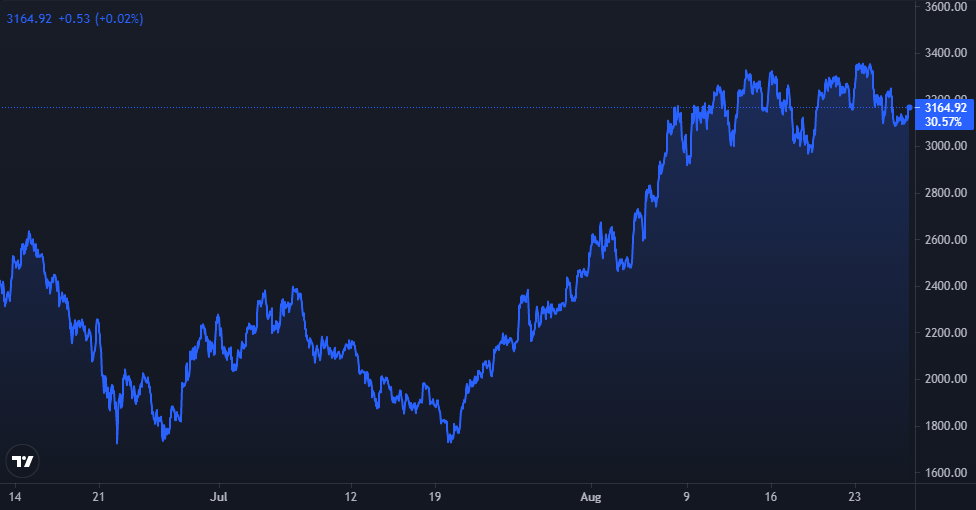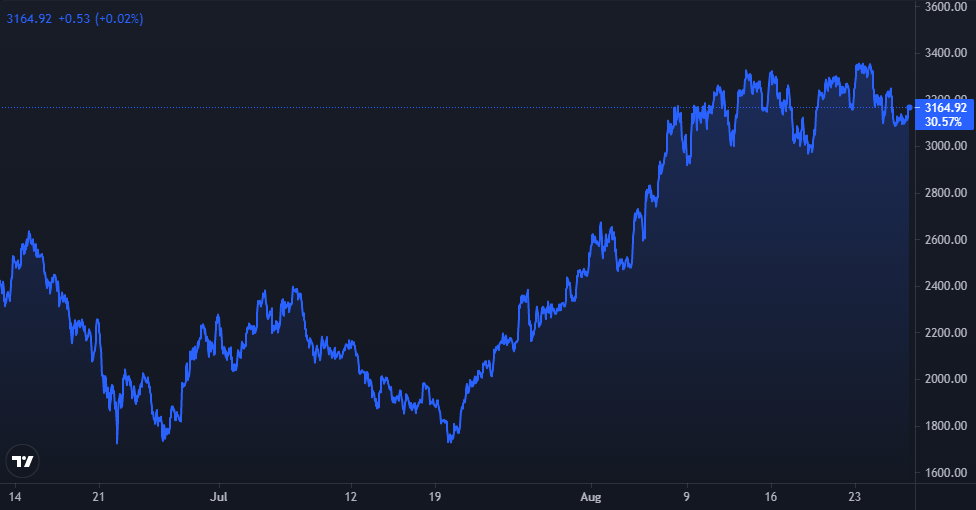 After a downtrend, it looks like ETH is now slightly moving up | Source: ETHUSD on TradingView
While the price is going down right now and looks bearish, the demand for Ethereum is only increasing when there isn't enough supply. This could prove to be quite bullish for the market in the long-term.
Featured image from Unsplash.com, charts from CryptoQuant.com, TradingView.com