Key Takeaways
Despite ever-stronger fundamentals, DeFi blue chips underperformed Ethereum by over 110%.

The DeFi Pulse Index, a benchmark tracking the performance of 18 DeFi blue chips, has retraced over 55% from the all-time high price it made this year.

Curve was the only blue-chip protocol to outperform Ethereum in 2021, up over 900% year-to-date.
Decentralized finance saw its biggest year to date in terms of user growth and adoption in 2021. However, most DeFi blue-chip tokens are down over 50% in dollar terms from the all-time highs they made this year.
DeFi Blue Chips Lazed in Price Despite Strong Fundamentals
While 2021 was undoubtedly a great year to hold crypto, looking back, it seems that most investors would've been better off holding the two biggest cryptocurrencies than most of DeFi's blue chips.
According to data from DeFi Llama, this year began with approximately $20 billion in total value locked across decentralized finance protocols; now, at the end of the year, that number is $250 billion. However, despite the impressive growth in usage and adoption, most DeFi blue-chip protocols lagged behind Ethereum and other Layer 1s in price action.
For example, the DeFi Pulse Index (DPI), a benchmark comprising 18 DeFi blue-chip tokens on Ethereum—including Uniswap, Aave, Sushi, Compound, Synthetic, Yearn, and Balancer—is up 300% in dollar terms this year. For comparison, the second-largest cryptocurrency on the market, Ethereum, has surged over 540% in the same period.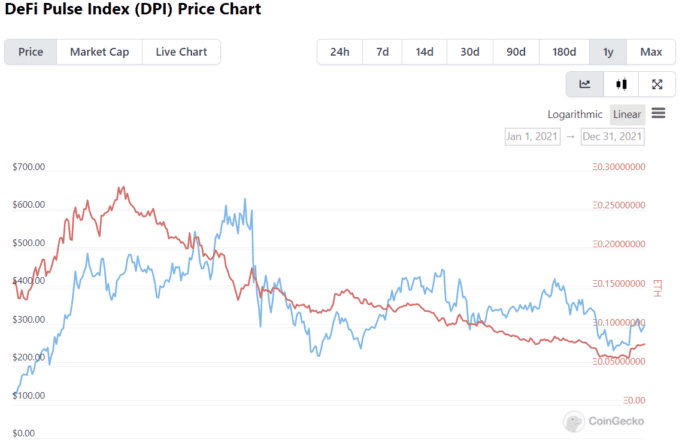 The price of DPI in USD (blue line) and Ethereum (red line) terms. Source: Coingecko
Measured another way, Ethereum is down only 20% from its all-time high price of $4,878 in November, while the DPI has retracted over 55% from its all-time highs in May. Year-to-date, DPI has underperformed Ethereum by over 110%. Interestingly, DPI has been tracking the performance of the entire cryptocurrency market, which has risen approximately 300% in 2021, with stunning accuracy.
The largest decentralized exchange in crypto, Uniswap, is down over 58% from its all-time highs and has been consistently underperforming Ethereum over most of the year's course. Aave, Maker, Sushi, Yearn, Synthetix, and Compound are also down 58%, 61%, 57%, 65%, and 77% from their all-time highs, respectively.
In the traditional equities market, the term "blue-chip" is typically used for companies that have reached a household status in their respective industries. Experienced investors think of these as businesses with strong fundamentals that have stood the test of time and are here to stay. These may include Amazon, Microsoft, Apple, Nike, Coca-Cola, and other major names. The same is true for the nascent and fast-changing DeFi sector, where the term is typically reserved only for the space's oldest, largest, and most reputable protocols. 
Surprisingly, despite having a precarious token launch in 2020, Curve, the largest decentralized exchange for stablecoins on Ethereum, is the only protocol amongst the blue chips that has outperformed Ethereum this year. It started the year at $0.62 and is currently trading at $5.58, marking a year-to-date increase of approximately 900%.
With Web3 on the horizon and sidechain and Layer 2 scaling solutions like Arbitrum, Optimism, ZK-Sync, and ZK-Starks picking up in pace, Ethereum blue chips will have ample opportunity to showcase their utility and make a fresh case to cryptocurrency investors.
Disclosure: At the time of writing, the author of this piece owned ETH, SUSHI, and several other cryptocurrencies.
Sushi Up 17% Amid DeFi 2.0 Rescue Rumors
It's thought that Daniele Sestagalli may step into the project as part of an internal restructure.  Sushi Rebounds From Recent Woes  Sushi is leading the market.  The DeFi project's SUSHI…
Algorand, NEAR Rally as DeFi Activity Increases
The alternative Layer 1 networks Algorand and NEAR have surged as new users jump into their DeFi ecosystems. Alternative Layer 1s Rally Algorand and NEAR's native tokens are outpacing the…
Audience Survey Win A $360 Subscription To Pro BTC Trader
Answer the questions below and share your email for a chance to win. Every month, 5 people will receive a $360 1-year subscription to Pro BTC Trader. Free. We're doing…
DeFi Blue Chip Curve Finance Breaks Out Targeting $7
Curve Finance appears to be catching up to the growing bullish momentum the DeFi market sector has experienced over the past few weeks. The lack of significant resistance barriers ahead…
Blue Chip DeFi Tokens Recover From Market Turbulence
Sushi, Aave, Uniswap, and Compound have posted substantial gains today.  DeFi Tokens Rise DeFi blue chips are regaining momentum. Sushi, one of the biggest multi-chain decentralized exchanges, has started to…