Ethereum's social volume and dominance reached levels last seen in February based on significant discussions about the second-largest cryptocurrency.
Crypto analytic firm Santiment explained:
"Ethereum's address activity really picked up, with 592k addresses being the highest number of unique interactions in over a month. Meanwhile, social discussion for ETH has hit its highest levels in over two months."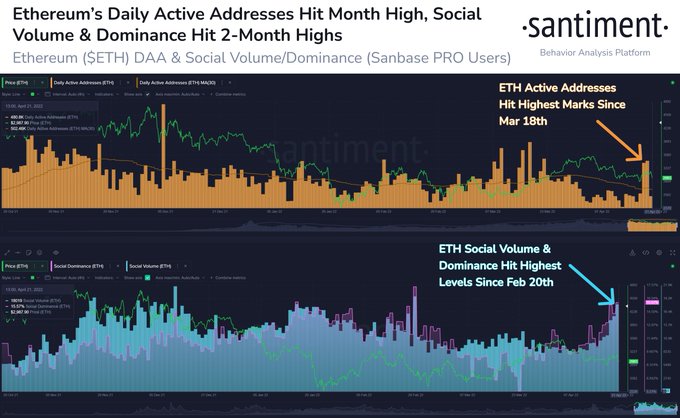 Source: Santiment
Therefore, ETH active addresses have been soaring, showing heightened transactions.
Revelations might have sparked the high social dominance levels experienced on the Ethereum network that the much-anticipated merge would not occur in June as planned. 
The merge will serve as the biggest software upgrade in the Ethereum ecosystem by shifting the current proof-of-work (PoW) framework to a more cost-effective and environmentally friendly proof-of-stake (PoS) consensus mechanism.
Therefore, it is expected to enhance Ethereum's quest of being a deflationary asset, given that its value is anticipated to continue increasing over time based on slashed supply.
Ethereum whale addresses surge
Ethereum whales have been on a spending spree because they have increased their holdings by 4% since March. Market analyst Ali Martinez noted:
"The number of addresses with a balance greater than 10K ETH has increased by over 4% since Mar 14. But in the past few days, 13 whales holding over 10K ETH have joined the network. This may seem insignificant but each of these whales has bought over $30 million in Ethereum."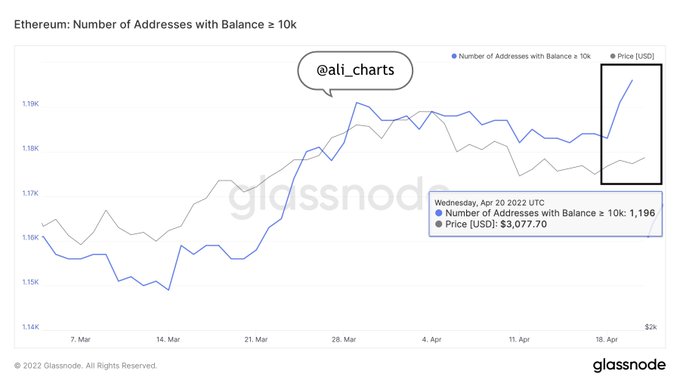 Source: Glassnode
Martinez had previously opined that the surge in Ethereum whales holding more than 10,000 ETH might prompt a new bull run based on past data. He stated:
"Ethereum price is correlated with the number of whales with over 10K ETH. When whales began accumulating in Sept 2020, ETH rose by 1,300%."
Meanwhile, crypto markets have shown a strong correlation with equities. Santiment pointed out:
"A trend that may continue until the next FOMC meeting in May, crypto markets remain firmly entrenched in the same price patterns as the SP500 and equities markets. The Fed recently announced that a half point interest rate hike is likely."
The Federal Open Market Committee (FOMC) is part of the Federal Reserve (Fed) that determines the monetary policy's direction. 
Image source: Shutterstock