The crypto fear and greed index shows market is back in the extreme fear territory as Bitcoin has once again declined to $36k.
Market Sentiment Returns To Extreme Fear As Bitcoin Drops To $36k
Recently, as the price of the crypto recovered back above $38k, the market sentiment rose to that of fear. However, today, the price of BTC has again declined, leading to a return to extreme fear sentiment.
The relevant indicator here is the "fear and greed index," which measures the general sentiment among Bitcoin investors.
The metric uses a numeric scale that goes from zero to hundred to represent the sentiment. Values below fifty mean the market is currently fearful, while values above the threshold signal a sentiment of greed.
The extreme values of more than 75 or below 25 imply that investors are currently facing extreme greed or extreme fear, respectively.
Related Reading | Bitcoin Sees Poor Demand As Investors Try to Defend $37K, Is BTC In Trouble?
Very high values of the indicator usually occur around tops. On the other hand, very low values may be there during bottom formations.
Because of this, some traders believe that it's best to sell during extreme greed and to buy during extreme fear. As Warren Buffet put it, "Be fearful when others are greedy, and greedy when others are fearful."
Now, here is a chart from the latest weekly Arcane Research report that shows how the Bitcoin fear and greed index briefly rose up in value recently:
The trend in the metric over the past year | Source: The Arcane Research Weekly Update - Week 4
As you can see in the above graph, the Bitcoin market has been extremely fearful for a while now as the price has continued to struggle.
However, a few days back the sentiment improved a bit to that of fear as the crypto showed some recovery. On Sunday, the indicator surged to a value of 30, the highest it has been in the year 2022.
Related Reading | Volume Of Bitcoin Illiquid Supply Points To Growing Bullish Sentiment
At the time the report with the chart came out, the metric still had a value of 26. But now that Bitcoin has dropped below $37k again, the market sentiment has once again shifted into one of extreme fear.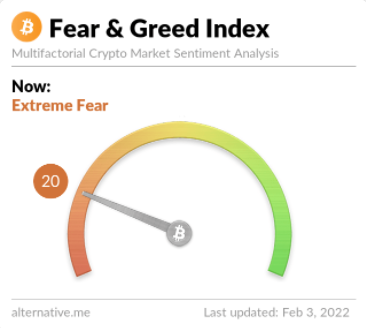 The fear and greed index has a value of 20 right now | Source: Alternative.me
It's currently unclear when the sentiment may see a real improvement. Back during the May-July 2021 mini-bear period, such extreme fear values continued for a few months before the bottom was in.
BTC Price
At the time of writing, Bitcoin's price floats around $36.7k, down 0.1% in the past week.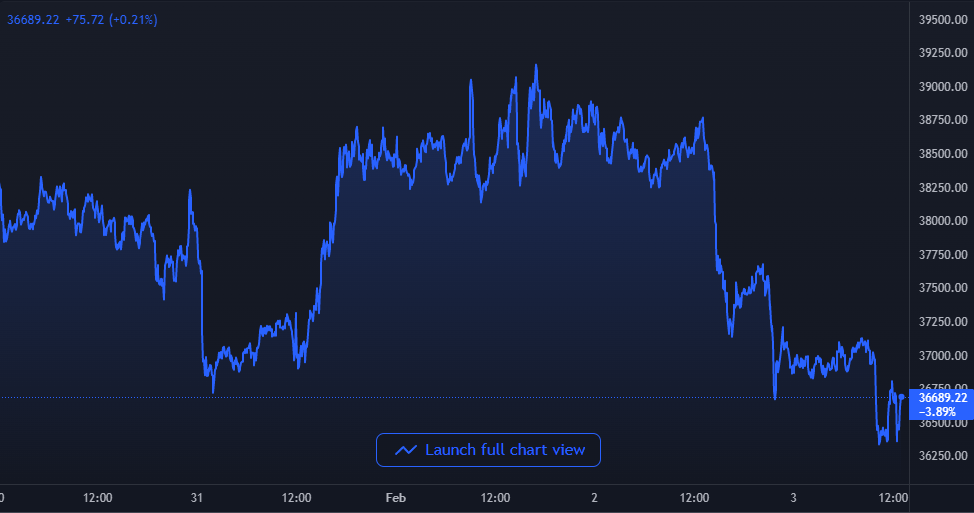 BTC's price has plunged down in the past 24 hours | Source: BTCUSD on TradingView
Featured image from Unsplash.com, charts from TradingView.com, Arcane Research