After nosediving to lows of $30K in May as China intensified crypto mining crackdown, Bitcoin (BTC) is back to winning ways when it recently has reached a 6-month high of $60K.
The benchmark cryptocurrency has emerged the top amongst commodities, as acknowledged by CryptoCompare. The market insight provider explained:
"Bitcoin is the best performing asset compared to commodities. This year BTC has returned 96%, outcompeting crude oil by 27% despite the asset reaching its highest price since 2014. Gold and silver have also been outperformed -yielding 39.4% and -12.6% respectively."
Earlier this month, Bitcoin's dominance skyrocketed as market capitalization topped $1 trillion. These are some of the factors that have made BTC outperform commodities. 
Dormant Bitcoin on the move
According to on-chain metrics provider Santiment:
"Bitcoin's dormant coins continue to circulate at encouragingly high rates. When the average age of BTC investments flattens, it encouragingly indicates circulation is moving enough for a bull run."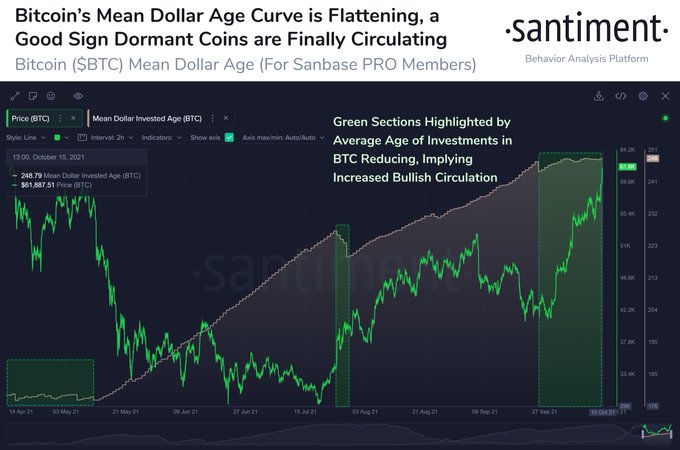 Therefore, Santiment believes this high circulation rate could prompt a bull rally, and if this happens, the all-time high (ATH) price of $64,800 might be breached.
Meanwhile, the long-term holding supply growth is expected to decline if the ATH price is broken. Crypto analytic firm Dilution-proof noted:
"Last month, during the recent Bitcoin price run to $65K, growth of the long-term holder (LTH) supply & the negative exchange flows slowed down. It is likely that the LTH supply growth slows down further after we break ATH, as LTH tends to sell against market strength gradually."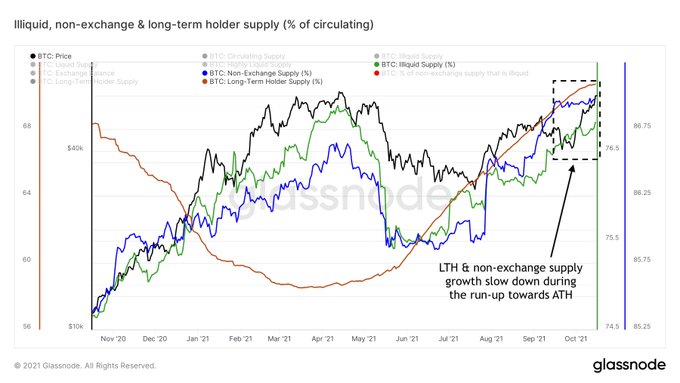 Bitcoin's realized capitalization breaks the record
Bitcoin's realized capitalization has been on an upward trajectory because it reached a record high of $415,527,771,448.34.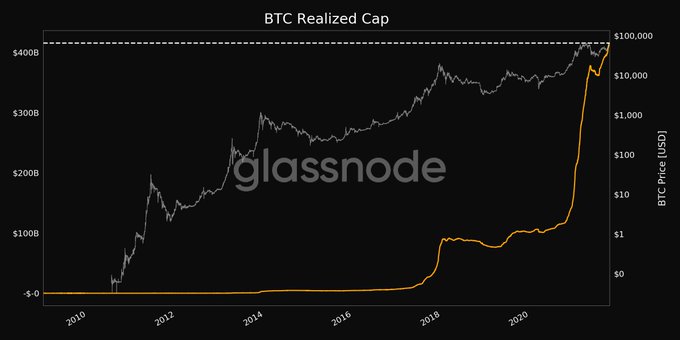 Realized market capitalization is a metric calculated by valuing each supply unit at the exact price it last moved on-chain or at the last time it was transacted. 
As a result, it does not calculate coins that remain unmoved because cryptocurrencies can be lost, unreachable, or unclaimed. This contrasts with the standard market capitalization that values every supply unit evenly at the current market price.
Image source: Shutterstock