Bitcoin (BTC) hit the $22K level, a scenario last seen in mid-June after Boris Johnson resigned as the UK prime minister.
Even though BTC had retraced to the $21,825 zone during intraday trading, the leading cryptocurrency was still up by 7.18% in the last 24 hours, according to CoinMarketCap.
Johnson resigned in a week marred by turmoil in British politics as various ministers quit based on a slew of scandals. Therefore, Johnson's authority was eroded, which typically paralyzed the UK government.
Speaking to onlookers and supporters outside 10 Downing Street on Thursday, Johnson stated:
"It is clearly now the will of the parliamentary Conservative Party that there should be a new leader of that party and therefore a new prime minister."
Nevertheless, he blamed the Conservative Party for his woes and said:
 "As we have seen at Westminster … when the herd moves, it moves. And my friends, in politics, no one is remotely indispensable."
Therefore, news about Johnson's resignation has triggered a bullish momentum in the Bitcoin market because the top cryptocurrency has been struggling to hold the psychological price of $20,000.
However, a market analyst under the pseudonym Tajo Crypto believes caution should not be thrown to the wind because BTC is still not out of the woods. The analyst stated:
"Bitcoin pumped after Boris Johnson's resignation and it's pumping now, but let's not be too optimistic and blow things out of proportion. We are still in a bear market and there's no guarantee of leaving yet, especially with the Fed's quantitative tightening. But anything is possible."
With Bitcoin being rejected at the 200-day exponential moving average (EMA) at around $22.5K, time will tell how the leading cryptocurrency will play out in the short term.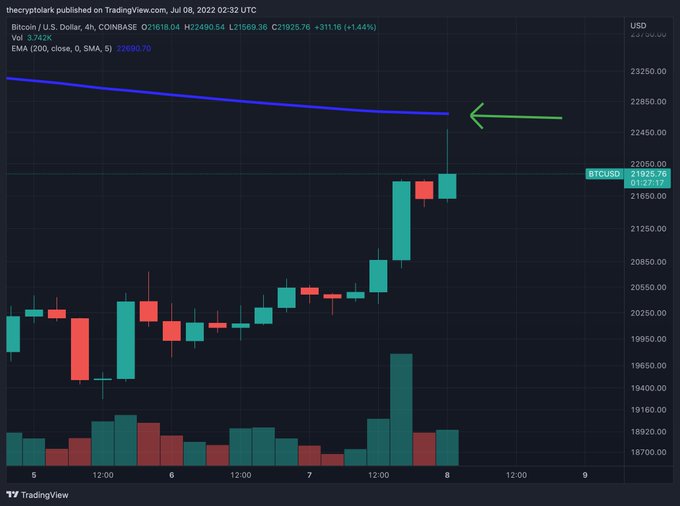 Source: TradingView/LarkDavis
If the price goes back above the 200 EMA, a technical indicator, a reversal might have happened. 
Meanwhile, Jordan Belfort, a former Wall Street stockbroker, recently stated that BTC investment required a long-term strategy based on underlying fundamentals. 
Image source: Shutterstock