Bitcoin (BTC) has experienced significant ups and downs in the first half year due to various uncertainties and events like the LUNA collapse.
Glassnode believes the top cryptocurrency has persisted in two huge capitulation events so far in 2022. The market insight provider explained:
"2022 has seen Bitcoin markets weather two enormous capitulation events, both with the largest BTC transfer volume in loss since 2011. When LUNA collapsed, the total transfer volume in loss was 538k BTC. This was followed by 480k BTC as the market traded below the 2017 ATH."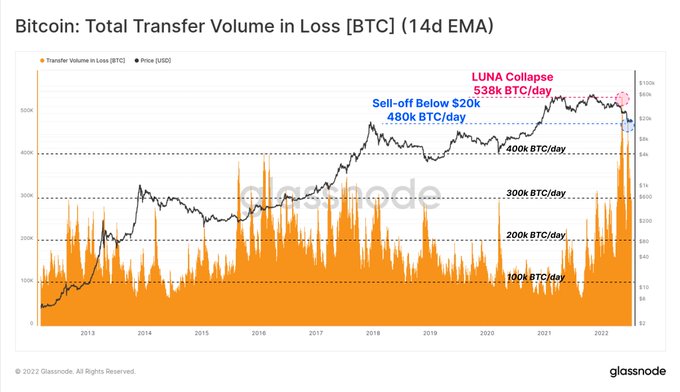 Source: Glassnode
The collapse of LUNA and UST, the native tokens of the Terraform network, sent shockwaves in the crypto market, and Bitcoin was not spared. This emerged as the first significant capitulation event.
Nevertheless, the top cryptocurrency dusted itself off after 538,000 BTC was transferred in massive loss. 
The second capitulation event continues to play out after Bitcoin nosedived below the all-time high (ATH) of $20,000 recorded in 2017.
Since capitulation happens when investors have given up trying to recover lost gains based on falling prices, Glassnode recently pointed out that this was happening in the BTC market because a resilient bottom had not yet been formed. 
Crypto analyst Rekt Capital acknowledged that bear market bottoms are time intensive and said:
"Typical BTC bear market bottoms tend to take months to develop before a new macro uptrend begins. BTC has been meandering at current prices for only a few weeks. History suggests it is too premature to expect a full-blown macro trend reversal so soon."
Rekt Capital added that the psychological price of $20,000 was the level to watch based on how strong or weak it would emerge as a support level.
Bitcoin was up by 4.38% in the last 24 hours to hit $22,337 during intraday trading, according to CoinMarketCap. 
Image source: Shutterstock