The daily net issuance in the Ethereum (ETH) network continues to drop, signifying a supply deficit.
Data analytic firm IntoTheBlock explained:
"ETH net daily issuance is dropping. after reaching a top on March 12 of 3.48%, the 7-day average net issuance has been around 2.21%. ETH has not had a negative net issuance day since January 10, but it reached a 2-month low on Tuesday of 0.87%."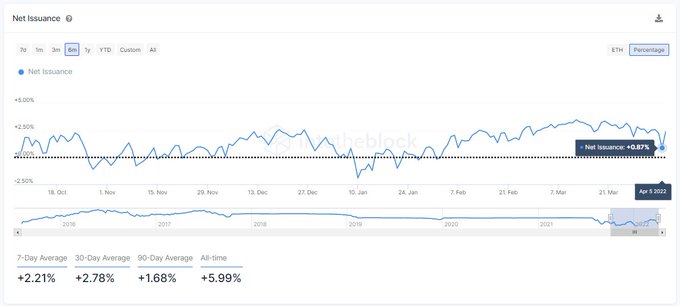 Source: IntoTheBlock
Ethereum issuance entails the available Ether on the network, given that it's the difference between mined Ether and the one burned after being used in transactions. The burnt Ether mechanism was introduced after the London Hard Fork or EIP 1559 upgrade went live in August 2021.  
Therefore, a slip in Ethereum's net daily issuance is bullish because it illustrates scarcity in the network, and depending on the demand available price is expected to increase.
The second-largest cryptocurrency was up by 1.5% in the last 24 hours to hit $3,263 during intraday trading, according to CoinMarketCap. 
The merge is expected to be a game-changer
The much-anticipated merge slated for Q2 of 2022 will serve as the biggest software upgrade in the Ethereum ecosystem. It will prompt a transition from the current proof of work (PoW) to a proof of stake (PoS) framework, deemed more environmentally friendly and cost-effective.
Market analyst Lark Davis expects the merge to prompt a supply growth rate of -2.8% in the ETH network. He explained:
"At -2.8% supply growth a year post Merge, Ethereum will see about 3.3 million ETH a year burned. By the end of the decade total ETH supply will drop under 100 million. Or put another way, we will burn the equivalent of ALL ETH currently sitting on exchanges."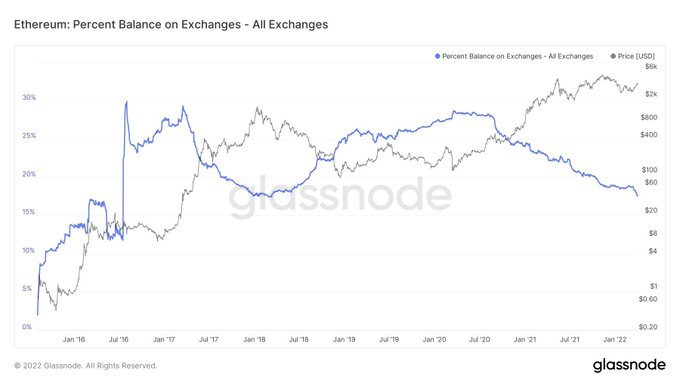 Source: Glassnode
A previous study by LuckyHash noted that the merge would trigger a 1% annual deflation rate.
Therefore, the merge is viewed as a game-changer that will boost Ethereum as a deflationary asset, given that the London Hardfork or EIP 1559 upgrade already set the ball rolling.
Image source: Shutterstock