The amount of Bitcoin's circulating supply that has stagnated for at least a year hit an all-time high (ATH) of 64%, signalling a supply deficit. 
Market analyst under the pseudonym Plan C explained:
"An all-time high 64% of the Bitcoin circulating supply has not moved in at least 1 year. I expect this metric to max out at 66-68% before the major uptrend begins."
Source: Glassnode
According to CoinMarketCap, the circulating supply on the Bitcoin network currently stands at 19.01 million BTC. Around 12.16 million worth BTC remain unchanged.
Based on market forces, if demand rises, the Bitcoin price is anticipated to increase on the foundation of slashed supply.
Currently, the leading cryptocurrency was up by 1.28% in the last 24 hours to hit $41,876 during intraday trading, according to CoinMarketCap.
Bitcoin accumulation is happening across the board
The accumulation of more coins on the Bitcoin network is not only being undertaken by whales but also by smaller addresses.
Data analytic firm IntoTheBlock stated: 
"The BTC accumulation is not only a whale's game. Addresses holding <10 BTC have increased their holdings in 2022 dramatically. While the group of addresses with 10k-100k BTC reduced their exposure from 4m to 3.9m BTC in 2022, the different clusters of small addresses accumulated."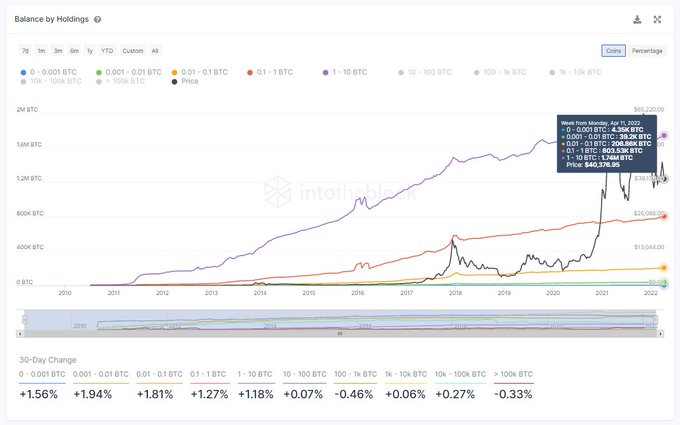 Source: IntoTheBlock
Heavy accumulation of Bitcoin remains between the $37K and $40K zone. Market insight provider CryptoQuant pointed out:
"A price range of BTC between 37K ~ 40K is where this accumulation phase has been ongoing since Mar 2022 until the present."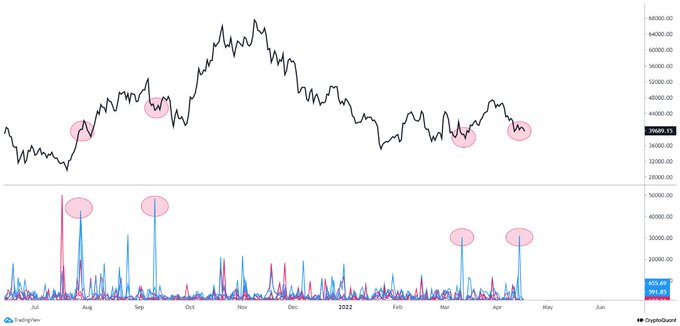 Source: CryptoQuant
Meanwhile, Bitcoin recently breached the $40K level based on an uptick in trading volume after experiencing a dormant Easter weekend. 
Image source: Shutterstock