Following the crash to $35k, the Bitcoin open interest has declined to September 2021 levels. This may suggest that the market volatility will be lesser in the near future.
Bitcoin Open Interest Drops To Similar Levels As In September 2021
As pointed out by an analyst in a CryptoQuant post, the BTC open interest has decreased to similar levels as last September following the crash.
The "open interest" is an indicator that measures the total amount of Bitcoin futures contracts currently open in the derivatives market. The metric accounts for both long and short positions.
When the value of the indicator increases, it means more money is entering into the derivatives market as investors open more positions.
The volatility in the price of Bitcoin usually rises in such scenarios as it implies leverage in the market is going up, and so a liquidation squeeze may be coming.
On the other hand, when the open interest declines in value, it means holders are closing up their futures positions. The resulting lower leverage environment usually leads to lower price volatility.
Related Reading | Bitcoin Diamond Hands: Despite Recent Fear, Coins Aged 12-18 Months Rise To 2-Year High
Now, here is chart that shows the trend in the Bitcoin open interest since the May of last year:
The value of the indicator seems to have gone down recently | Source: CryptoQuant
As you can see in the above graph, the Bitcoin open interest has declined after the crash in the price of the crypto to $35k.
Similar behavior was also seen during two other instances in the last six months, where a crash in the BTC price wiped out some open interest.
Related Reading | Market May Be Suffering But Bitcoin And Ethereum Will Pull Back Stronger, Bloomberg Analyst
During all these instances, it seems long liquidations were at play to amplify the slide in the crypto's price. Now, the Bitcoin open interest is at the same level as September 2021.
Ethereum's open interest has also dropped significantly since its ATH, and is now the lowest since last Sept. The below chart highlights this trend.
Looks like the ETH open interest has also observed a reset | Source: CryptoQuant
As the open interest values are now relatively lower, the quant believes volatility should also be lesser in the near term.
BTC Price
At the time of writing, Bitcoin's price floats around $33.3k, down 21% in the last seven days. Over the past month, the crypto has lost 34% in value.
Here is a chart that shows the trend in the price of BTC over the last five days: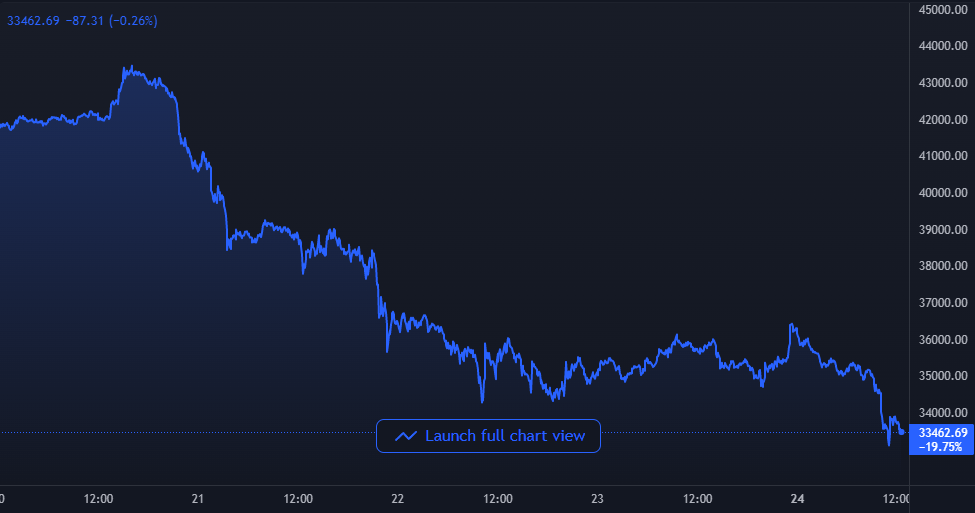 Looks like BTC's price has shown sharp downtrend in the last few days | Source: BTCUSD on TradingView
Featured image from Unsplash.com, charts from TradingView.com, CryptoQuant.com