Key Takeaways
Binance users have banded together to try and get their accounts unlocked, many of which have been frozen since last year.

Many users have had tens of thousands of dollars locked in frozen accounts with little to no recourse from the support system.

Customer experiences include dead-end conversations with automated bots and a blunt Reddit moderator who is the focus of dozens of complaints.
A group of concerned Binance users has contacted Crypto Briefing with a document containing dozens of unresolved support tickets, a closed loop of customer service bots to navigate, and hundreds of thousands of dollars in user funds locked on the exchange.
#BinanceHell Hashtag Trends Among Users
One Redditor caught trapped in "Binance Hell," Cryp-to-Bountiful, told Crypto Briefing that they have $45,000 in locked funds and no resolution in sight.
"I understand that U.S. citizens are not allowed to trade on Binance.com. However, I am not allowed to transfer my assets out. I can't even see my account. There is no option for U.S. citizens to set up [two-factor authentication]. No working chat. No phones."
Another Reddit user, Ambitious_Resident74, claims to have $300,000 in locked funds, with the only communication from Binance citing "withdrawals suspended due to risk management."
"Same issue as others, mine was a $350 chargeback. I sent the video of myself proving I have control of the account and I'm fully verified on there," said u/Ambitious_Resident74, adding that they could deposit funds but not withdraw. "This is criminal and has set me back in life severely."
Other users have confirmed that they are experiencing issues with two-factor authentication (2FA) or that their attempts to reset 2FA have gone on for months. In some cases, the issues persist long after 2FA security measures have been reset entirely.
Even the on-site "send" button allowing users to transfer funds is reportedly grayed out and disabled.
"I had a chargeback due to a bank error," complains one user. "Always been in good standing. Wired the money to Binance right away and they posted it to my account. Since then, they disabled all trading and withdrawing from my account. There is no phone number,  just support tickets."
It's an open secret that U.S. customers have used VPNs to get around restrictions prohibiting them from using the main Binance website. This, according to at least one Binance employee, is likely the common point between all users.
In a Reddit thread, a moderator and Binance representative symbiotic_bnb insisted that Binance U.S. users can still withdraw funds unless they've done "something stupid, like use a VPN to bypass restrictions."
The CFTC is investigating Binance to see if the exchange has been facilitating illegal transactions, and this investigation may also play a role in the current situation with Binance customers.
here is proof. I have 10,000 ONE and 300 of my precious ADA all locked away from me for months now. they even have a typo in the page that says I'm verified lol pic.twitter.com/piL8yDAbjq

— Alucard420 (@Alucard4205) April 12, 2021
Frustrating Binance Support Experiences
The Binance representative symbiotic_bnb is well-known among this community of disgruntled users.  They were painted as unhelpful and avoidant in the document shared with Crypto Briefing, with users pointing out the Binance representative's unprofessional language and actions on several occasions.
Threads on Reddit also complain of the moderator who is often seen insulting or mocking users in support threads.
symbiotic_bnb has accused users that have been petitioning for help of being malicious actors and "whining" about the loss of access to their funds, stating that Binance staff are not "incompetent morons."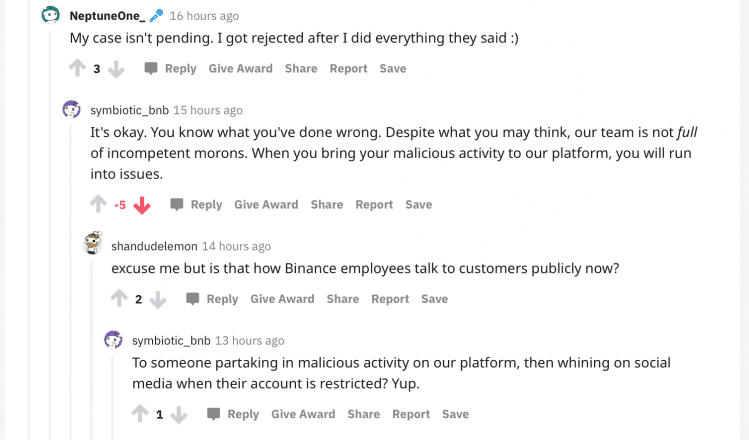 With a serious backlog of unresolved cases and frustrating experiences dealing with support, users were forced to begin organizing as a group.
For some, the issue has been ongoing since last year.
Another user stated that customer service had asked them to perform tasks that the website didn't support.
"Customer support is also asking me to do impossible things which the binance website doesn't support, such as uploading pdf files in the chat function, when the chat does not support such files. I was also asked to make a bank transfer appeal by customer support, I did this and I got an email response saying the appeal was rejected due to 'risk control.'"
Their experience with customer support included blank messages from Binance's chatbot and an appeal system that directed them to open a ticket with customer service, leaving them with $40,000 in trapped funds for over two months.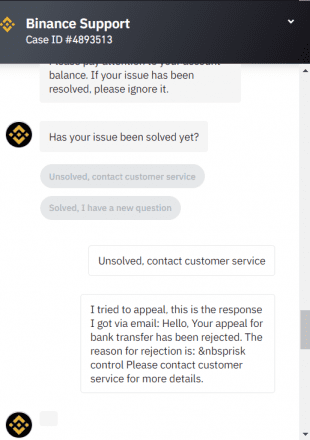 It's worth noting that many of the cases listed in Crypto Briefing's documents deal with users from outside the U.S., such as from Finland and Australia.
In fact, a user named Alice, one of the organizers behind the effort to unlock user accounts, told Crypto Briefing that the situation was even worse for international users.
"Seems the U.S. customers are doing better as they can report to official agencies, unlike the rest of us using .com," the organizer said, adding that "Customer service 'agents' are likely 80% bots. My personal experience has been horrendous, but it is nothing comparing to some who have been stuck since December."
Blocking me will NOT resolve THOUSANDS of your users' contacting you to get THEIR money back! #BanBinance#BinanceHell#DeleteBinance #Binance

@BinanceHelpDesk@BinanceNewsInfo @weizhou_binance @cz_binance

— Alice H (@lucky_girl_604) March 29, 2021
Binance users have even discussed an in-person protest to have their accounts unlocked, with frustration mounting as the situation continues to unfold.
In an initial email to Binance.com regarding the locked accounts, Crypto Briefing was told to speak with the communications team at Binance.US. This team has yet to respond at time of press.
Disclosure: The author held BTC and ETH at the time of writing.
$300m Binance Coin (BNB) Burn Spurs Loss
The price of Binance Coin (BNB) has slipped 7% in early morning trading even after 2m tokens were burnt yesterday. Since the start of Sunday, Binance coin has depreciated from around $13.23 to…
What Are Non-Fungible Tokens (NFTs)?
Tokenization is well-suited for commodities like fiat currencies, gold, and physical land. A fungible asset's representation on blockchain makes commodities tradable 24/7 via borderless and frictionless transactions. Fungible goods are…
1inch Exchange Goes Live on Binance Smart Chain
Decentralized exchange (DEX) aggregator 1inch Exchange has launched its service on Binance Smart Chain (BSC). 1inch Expands to Binance Smart Chain 1inch Foundation has deployed its DEX aggregator and liquidity…
$10 Billion Fund Set to Trade CME's Bitcoin Futures
Renaissance Technologies' flagship Medallion fund has returned 24% year-to-date while most institutional funds have taken a beating. Dubbed the world's greatest hedge fund, Medallion has received permission to trade Bitcoin…