As Ethereum (ETH) edges closer to its all-time high (ATH) price of $2,000, the second-largest cryptocurrency based on market capitalization is continuously experiencing growth on its network. ETH has been up by 17.75% in the past week to trade at $1,792, according to CoinMarketCap.
Ryan Watkins, a researcher at MessariCrypto, believes that the numerous stablecoin protocol experiments in the Ethereum network are outstanding. He explained:
"Imagine hundreds of algorithmic central banking experiments running in parallel at a global scale. That's Ethereum right now with all its stablecoin protocols, and it's fascinating to watch unfold."
Some of the algorithmic experiments that have been taking place entail perfecting Ethereum 2.0, which was launched in December last year. It seeks to transition from the current proof-of-work consensus mechanism to a proof-of-stake one, which is dubbed more environmentally friendly.
Moreover, Ethereum's Berlin hard fork, which is an upgrade to the present Ethereum 1.0 mainnet, is anticipated to go live in mid-April. The Berlin upgrade is expected to be deployed on Ropstein, Goerli, and Rinkeby testnets before making its way onto the mainnet. With the Berlin upgrade, four Ethereum Improvement Protocols (EIPs) will be implemented.
DeFi's total revenue inches closer to $1 billion
Before the current renewed price momentum, Ethereum had experienced a price plunge because of high gas fees as they hit an all-time high – with an average transaction fee of over $30. This proved detrimental because it made the decentralized finance (DeFi) sector almost entirely impractical to use for the majority of retail traders.
Nevertheless, these gas fees recently hit a monthly low, and ETH is back on its feet because its network is one of the most sought-after in the DeFi industry. 
Token Terminal, a crypto metric provider, has revealed that the total revenue or fees paid in DeFi are edging closer to $1 billion.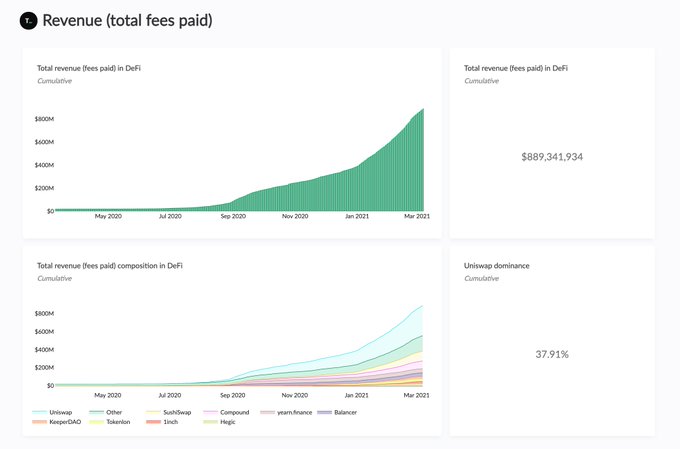 DeFi has been one of the engines behind Ethereum's price surge and increased adoption. 
Image source: Shutterstock