Even though some analysts have stipulated that Bitcoin's volatility is a cause for concern, crypto trading firm Cumberland believes volume is what matters the most.
Cumberland stipulated that Bitcoin volume "remain absolutely massive," given that BTC derivatives worth approximately $50 billion are cleared on crypto exchanges daily. As a result, the firm believes that the daily crypto activity might be at least $100 billion, nearly a fifth of U.S. stocks.
Source: Glassnode
As Bitcoin continues ranging between the $19K and $20K zone, volatility has slipped to the lowest level this year.
Nevertheless, Cumberland suggested that the slashed volatility does not show a lack of interest in the crypto space because an analysis of such magnitude "is deeply problematic," given that it "obfuscates the critical difference between trading volumes and price volatility." 
The firm added:
"Recent volatility-driven concerns about the health of the crypto space likely stem from comparisons to the bear market of 2018, when volumes were dire. This time is different."
BTC volatility?
With Bitcoin volatility levels grinding to yearly lows, a surge might be on the horizon, according to Glassnode.
The market insight provider explained:
"The Bitcoin market is primed for a burst of volatility, with both realized and options implied volatility falling to historical lows. Futures open interest has hit all-time-highs, despite liquidations being at all-time-lows."
There are also indicators that BTC volatility might explode, given that daily Bollinger Bands (BB) continue to tighten.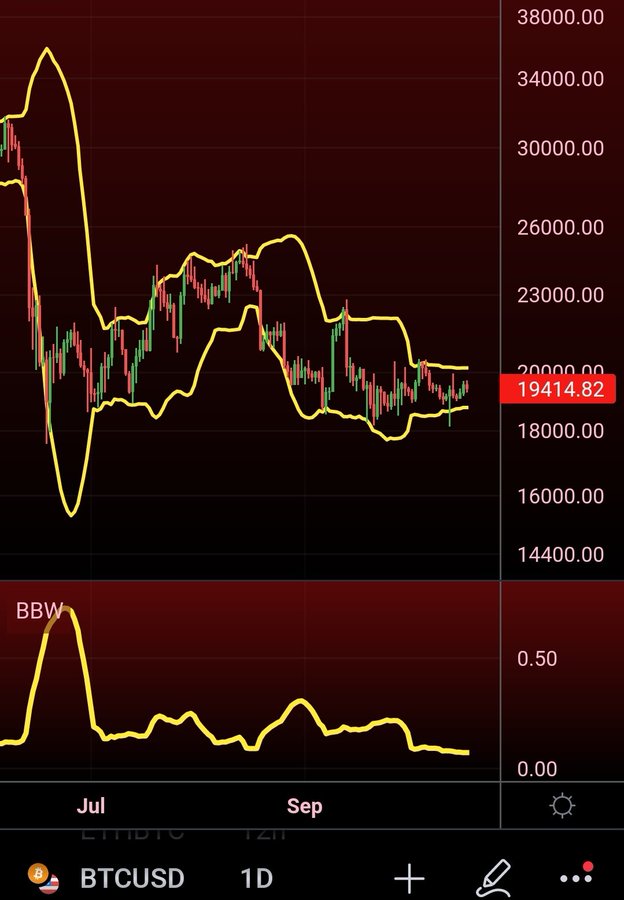 Source: MatthewHyland
Meanwhile, Caue Oliveira, the lead on-chain analyst at BlockTrends, recently noted that BTC might be gearing towards a significant movement because traders are eager for some change, Blockchain.News reported. 
Image source: Shutterstock