After touching the psychological price of $20K recently, selling pressure has emerged in the Bitcoin (BTC) market, causing the price to drop below $18,800. Furthermore, trading volume hit a three-month high.
Market insight provider Santiment explained:
"Trading volume has heated up for crypto markets, and especially Bitcoin. During the big leg down on Tuesday, BTC peaked at its highest level of trading since June 14th. Volume has gradually risen all year since bottoming out in late January."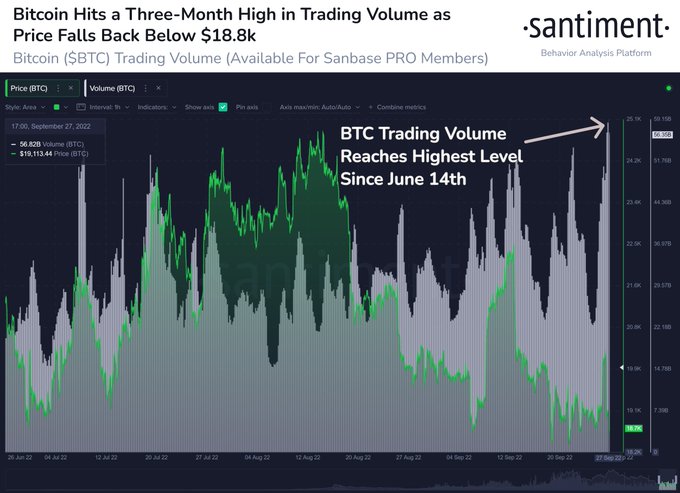 Source: Santiment
The leading cryptocurrency was down by 7.32% to hit $18,744 during intraday trading, according to CoinMarketCap. 
Market analyst Michael van de Poppe believes Bitcoin should hold a zone between $18,600 and $18,800 to avoid further downside. He pointed out:
"Back in the range for Bitcoin, through which the levels still stand. On the upside, breaking & flipping $19.3K and preferably $19.5K activates continuation towards $22.5K. Supports to hold; $18.6K-18.8K range."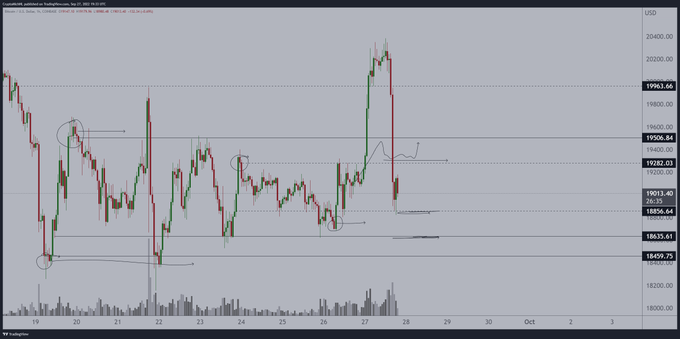 Source: TradingView/MichaelvandePoppe
Based on Santiment data, profit-taking tendencies emerged after Bitcoin jumped above $20,000. The market insight provider noted:
"Many traders were apparently awaiting the $20k threshold to begin selling their bags. As Bitcoin crossed back above this psychological level, mass profit taking ensued. Now we find out whether those anxious to sell will regret their decisions."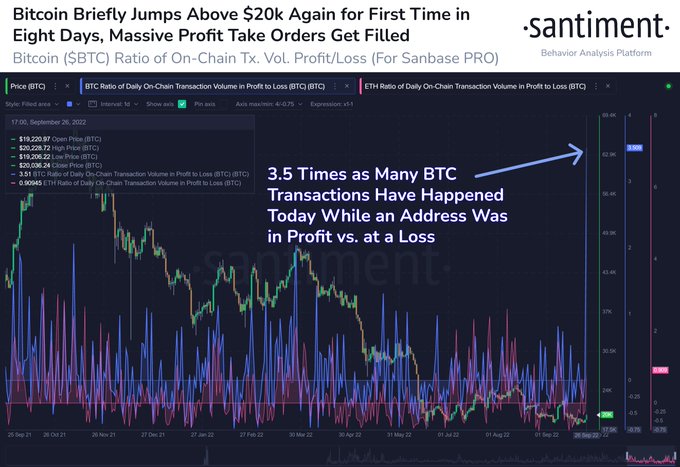 Source: Santiment
With Bitcoin trading volume exploding against the British pound (GBP) recently, it remains to be seen how the top cryptocurrency trends in the short term. 
James Butterfill, the head of research at CoinShares, stated:
"Bitcoin volumes against GBP were US$881m yesterday (US$70m average), when a FIAT currency is threatened, investors start to favor Bitcoin."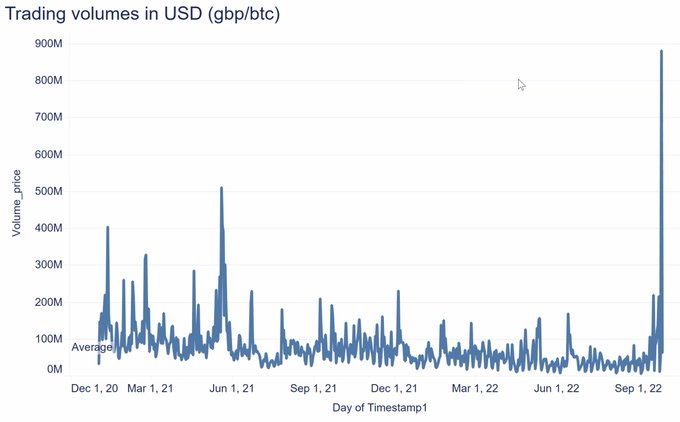 Source: JamesButterfill
Meanwhile, interest in BTC recently spiked, causing social dominance to surge to a 2-month high, Blockchain.News reported. 
Image source: Shutterstock