Ethereum (ETH) continues to be at the centre stage after undergoing its biggest software upgrade called the Merge, which saw a transition from a proof-of-work (PoW) to a proof-of-stake (PoS) consensus mechanism. 
Active ETH addresses have skyrocketed after hitting a monthly high. Market insight provider Glassnode explained:
"The number of active ETH addresses (7d MA) just reached a 1-month high of 31,498.220. Previous 1-month high of 31,459.899 was observed on 17 August 2022."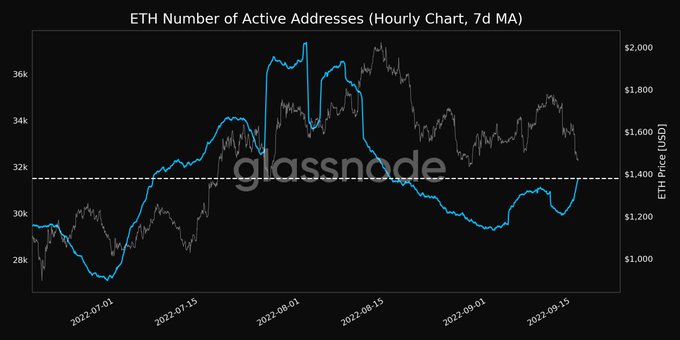 Source: Glassnode
With weekly social engagement levels surging by 53%, active addresses were deemed to increase based on the speculation triggered by the much-anticipated Merge.
Nevertheless, Santinent acknowledged that there was heavy dominance of two addresses. The crypto analytic firm stated:
"According to our Ethereum Post Merge Inflation dashboard, 46.15% of the proof-of-stake nodes for storing data, processing transactions, and adding new #blockchain blocks can be attributed to just two addresses. This heavy dominance by these addresses is something to watch."
On the other hand, hodlers had heavily staked in the Ethereum 2.0 deposit contract prior to this event. Crypto analyst Ali Martinez pointed out:
"ETH hodlers have staked more than 13.7 million ETH in the Eth2 Contract ahead of the Ethereum Merge, that's more than $22 billion."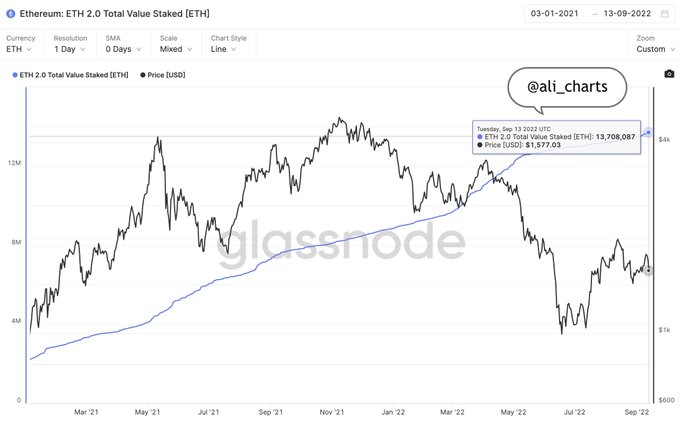 Source: Glassnode
After the Merge went live, it did not trigger a bullish momentum in the Ethereum network as anticipated. The second-largest cryptocurrency was down by 9.69% in the last 24 hours to hit $1,458 during intraday trading, according to CoinMarketCap.
Therefore, Ethereum needs to hold the current level to avoid a slip to $1,000. Market analyst Matthew Hyland stated:
"Ethereum is currently sitting on the neckline of the Head and Shoulders pattern Breakdown Target: $1000."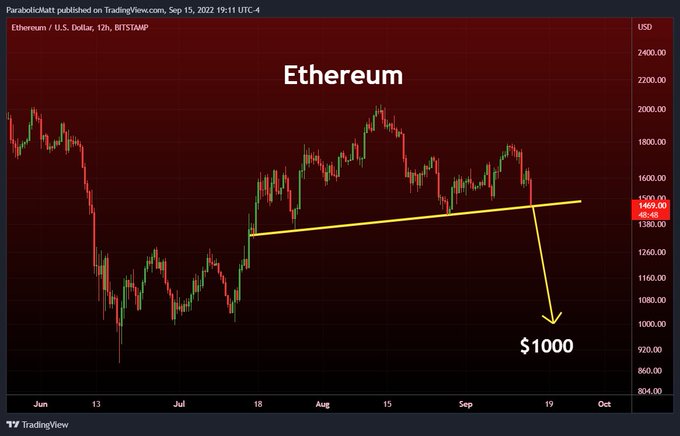 Source: TradingView/MatthewHyland
Therefore, time will tell how Ethereum plays out in the post-Merge era.
Image source: Shutterstock