Since the merge of Ethereum (ETH) has been awaited with bated breath by the crypto community, the network's speculative action has skyrocketed.
Market insight provider Glassnode explained:
"Ethereum speculative action continues, with over $6.12B in outstanding Open Interest for Call Options. Put options account for a much smaller $1.5B, making for a Put/Call Ratio of 0.25."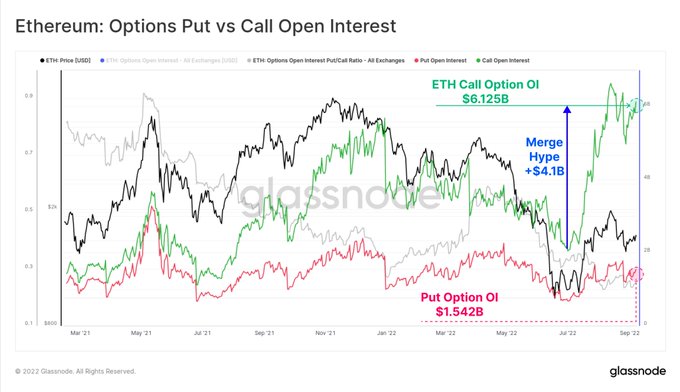 Source: Glassnode
Call options entail buying, whereas put options signify selling. Therefore, based on open interest being depicted in the ETH network, buying pressure outways selling, thanks to the much-anticipated merge event slated for September 15. 
Despite the merge being elusive for a couple of years, it is anticipated to be the largest software upgrade in the Ethereum ecosystem because it will change the consensus mechanism from proof-of-work (PoW) to proof-of-stake (PoS).
Therefore, various experts and institutions believe this event will heighten Ethereum's quest to be a deflationary asset. 
For instance, American multinational investment bank Citigroup or Citi recently pointed out that the merge would slash the overall Ether issuance by 4.2% annually, making it deflationary, Blockchain.News reported. 
Therefore, the merge seems to have made Ethereum be watched with a keen eye, given that transaction volume hit a monthly high. Glassnode stated:
"Ethereum Transaction Volume (7d MA) just reached a 1-month high of 80,910.738 ETH. Previous 1-month high of 80,814.148 ETH was observed on 02 September 2022."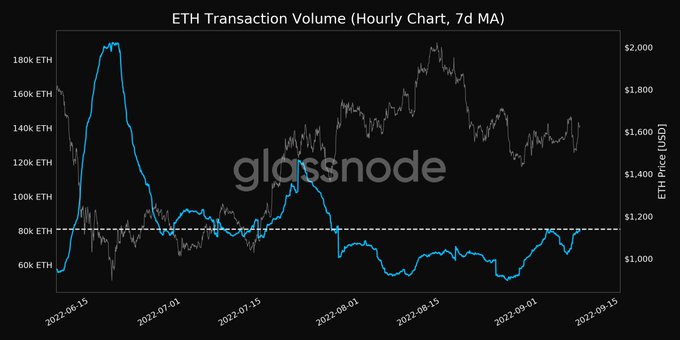 Source: Glassnode
Furthermore, Ethereum address activity has been scaling heights, with the number of addresses holding more than 100 ETH, recording an 18-month high.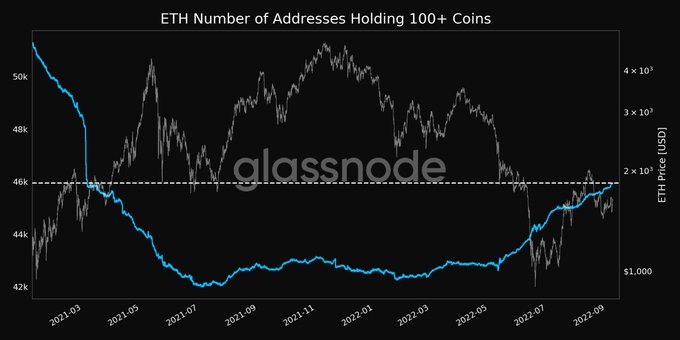 Source: Glassnode
ETH was up by 6.7% in the last 24 hours to hit $1,622 during intraday trading, according to CoinMarketCap.
With the Bellatrix upgrade having already set the ball rolling for the merge, it remains to be seen how the second-largest cryptocurrency plays out after this event. 
Image source: Shutterstock