Ethereum (ETH) has been experiencing an uptick in address activity, which has been instrumental in propelling notable momentum.
"The number of ETH addresses holding 32+ coins just reached a 17-month high of 117,257. A previous 17-month high of 117,244 was observed on July 27 2022," Crypto analytic firm Glassnode explained.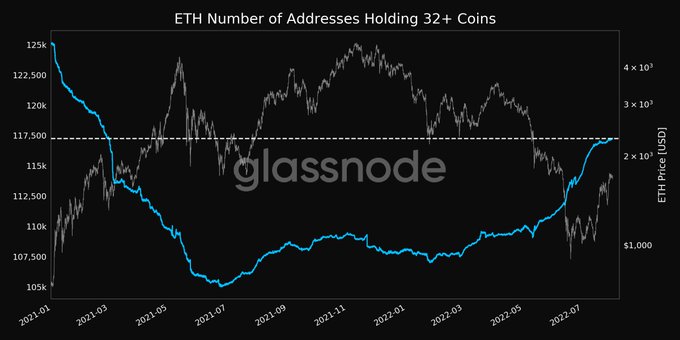 Source: Glassnode
Glassnode also pointed out:
"The number of Ethereum addresses holding 1+ coins just reached an ATH of 1,566,309 Previous ATH of 1,566,270 was observed on 27 July 2022."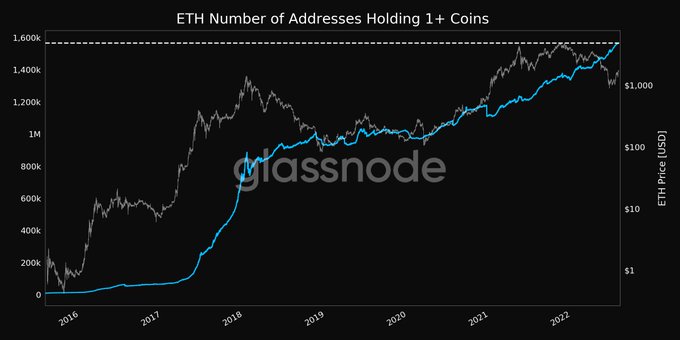 Source: Glassnode
ETH addresses holding more than ten coins also hit historic highs. This uptrend in address activity has played an instrumental role in instigating the bullish momentum witnessed in the Ethereum network. 
For instance, the second-largest cryptocurrency was up by 11.09% in the last seven days to hit $1,691 during intraday trading, according to CoinMarketCap.
The recent revelation that the most probable date for the merge would be September 19 has also been pivotal in giving Ethereum an uptick. 
The merge is expected to transform the Ethereum network into a proof-of-stake (PoS) consensus mechanism from the current proof-of-work (PoW) framework, which has been elusive for a few years.
The PoS algorithm will enable the confirmation of blocks in a more cost-efficient and environmentally friendly way because validators will stake Ether instead of solving a cryptographic puzzle. 
Therefore, the merge is anticipated to be the largest software upgrade on the Ethereum network. 
Image source: Shuttertstock