Institutional activity remains sluggish as bitcoin hovers around the lower $20K level, depicting a low-risk appetite.
On-chain analyst Caue Oliveira pointed out:
"Low institutional activity evidences de-risking movement by traditional whales. Looking at the daily trading volume in mutual funds traded in the traditional market with direct/indirect exposure to BTC, we can see the current low-risk appetite."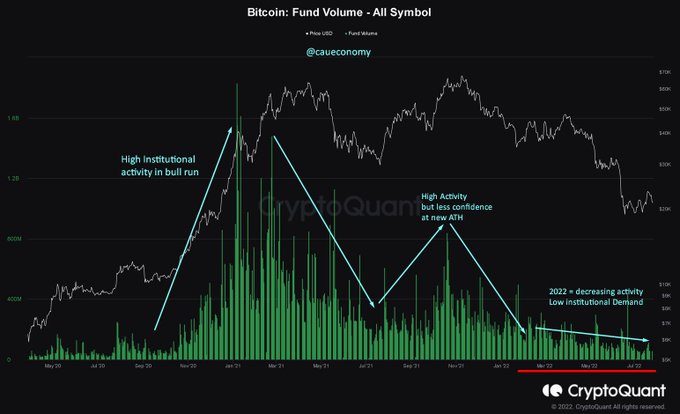 Source:CryptoQuant/CaueOliveira
Institutional investment has played an instrumental role in enabling Bitcoin to hit all-time highs (ATHs). For instance, BTC breached the then-historic highs of $20K in December 2020 after failing to do so for three years as more institutional investors joined the network.
Furthermore, institutional investments enabled the leading cryptocurrency to record the latest ATH of $69,000 in November last year.
Nevertheless, retail investors continue jumping on the Bitcoin bandwagon based on the rise of non-zero BTC addresses. Market insight provider Glassnode stated:
"The number of BTC addresses holding 0.01+ Coins just reached an ATH of 10,560,930. Previous ATH of 10,560,117 was observed on 26 July 2022."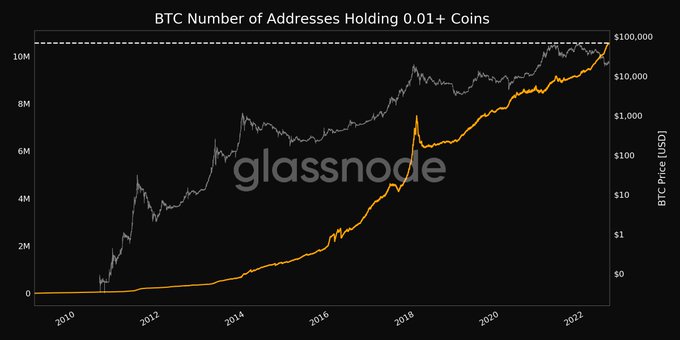 Source:Glassnode
Despite the back and forth being experienced in the BTC market, long-term objectives continue to take shape. 
Through its weekly report dubbed "Conviction Through Confluence," Glassnode highlighted:
"Long-term supply dynamics continue to improve, as redistribution takes place, gradually moving coins towards the hodlers. Notable supply concentrations are observable at $20K, $30K, and $40K, which tend to align with both technical and on-chain price models, making these regions significant zones of interest."
Bitcoin was hovering around $21,392 during intraday trading, according to CoinMarketCap. With the looming interest rate review by the Federal Reserve (Fed) slated for July 27, it remains to be seen how the top cryptocurrency plays out in the short term. 
Image source: Shutterstock