Despite Bitcoin's volatility sinking, this might indicate its quest to return to winning ways, according to Bloomberg analyst Mike McGlone.
McGlone stated:
"The lowest-ever Bitcoin volatility vs the Bloomberg Commodity Index (BCOM) may portend a resumption of the crypto's propensity to outperform. Our graphic showing the elongated upward trajectory of Bitcoin's price vs. the BCOM is typical compared with most assets."
Bitcoin has recorded incredible bull runs in the past. For instance, the leading cryptocurrency scaled heights and recorded a new all-time high (ATH) price of $69,000 in November last year. As a result, McGlone pointed out:
"Bitcoin may be regaining its propensity to outperform in 2H. The long commodity unwind, copper's fastest decline since 2008 and the bond future's recovery from the steepest dip vs. its 50-week mean since the 1987 stock crash, all coming amid an aggressive."
Bitcoin's upward momentum has been dented by tightened macroeconomic factors that have made risk assets unfavourable. 
For instance, the Federal Reserve (Fed) has resorted to interest rate hikes, with last month's being the highest in 28 years at 75 basis points (bps). 
This notable factor has made Bitcoin range in the lower $20K range. Market insight provider Glassnode highlighted:
"Bitcoin has attempted to escape the gravity of the $20k zone in a long-awaited relief rally. Momentum in the short term is favorable, however, longer-term indicators suggest additional time may be required to form a firm foundation."
With this month's interest rate review slated for tomorrow, July 27, all indicators are that it might be hiked by 75 bps, which has had a bearish impact on the crypto market in the past. 
Market analyst under the pseudonym Banks stated:
"Choppy sideways to down tomorrow. Dump during the meeting is likely; then relief is my base case right now if we get what the market expects. Obviously, history doesn't always repeat, but FOMC meetings and CPI days always provide great opportunities up or down."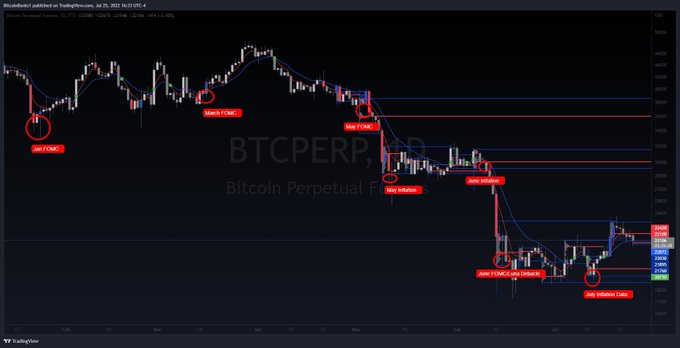 Source: TradingView/Banks
Therefore, it remains to be observed whether Bitcoin's low volatility will spur significant momentum in the second half amid interest rate hikes. 
Image source: Shutterstock