Despite the bearish momentum experienced in the Bitcoin (BTC) market, long-term hodlers remain steadfast because they are not selling.
Market insight provider Glassnode explained:
"Over 80% of the total USD denominated wealth invested in Bitcoin has been hodled for at least 3-months. This signifies that the majority of the Bitcoin  supply is dormant, and hodlers are increasingly unwilling to spend at lower prices."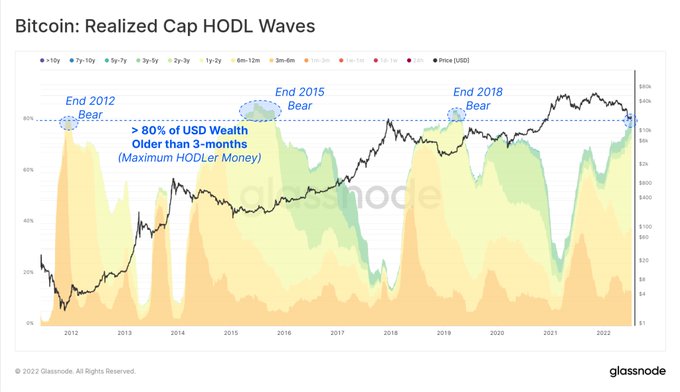 Source:Glassnode
This correlates with the fact that Bitcoin's balance on exchanges recently reached a 4-year low. BTC leaving crypto exchanges symbolizes a hodling culture, given that coins are often transferred to cold storage and digital wallets for future purposes other than speculation. 
Therefore, hodling continues to be a favored strategy in the Bitcoin market.
On the other hand, signs of a Bitcoin bottom have not yet popped up, despite the leading cryptocurrency continuously consolidating around the psychological price of $20K.
Market analyst under the pseudonym Tajo Crypto pointed out:
"No one knows what price Bitcoin will bottom, but after Bitcoin hit $17K on June 18th, Bitcoin hasn't retested that level. There's no guarantee that $17K is the bottom, but Bitcoin has dropped massively and could bottom at any point and start reversing. Many will be taken unawares."
Glassnode recently shared similar sentiments that more time was needed for a resilient bottom to be formed. The market insight provider stated:
"For a bear market to reach an ultimate floor, the share of coins held at a loss should transfer primarily to those who are the least sensitive to price, and with the highest conviction."
Glassnode believed that most BTC held at a loss had to be transferred to long-term holders for an ultimate floor to be formed.
Bitcoin oscillated around $21,395 during intraday trading, according to CoinMarketCap.
Meanwhile, the Bitcoin Lightning Network continues scaling heights after hitting a new all-time high (ATH) of 4,208 BTC.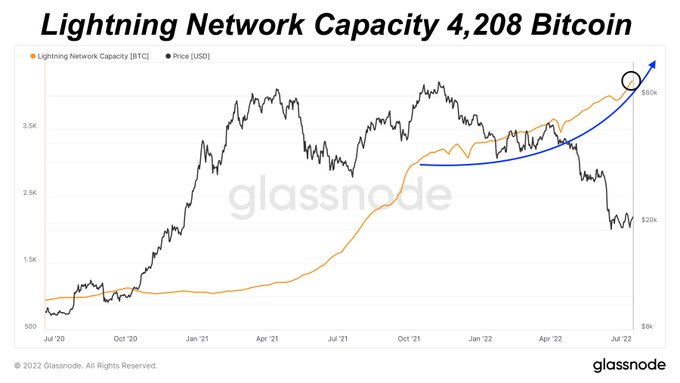 Source:Glassnode
The growth witnessed on the Lightning Network is happening amid Bitcoin's price being on shaky grounds, suggesting that the development for adoption continues to take shape. 
Image source: Shutterstock