After experiencing notable back and forth around the psychological price of $20,000, Bitcoin got a sigh of relief after pumping to mid-June levels of $22K.
Market analyst Ali Martinez noted that this breakout might cement Bitcoin's quest of heading to the $25,000 zone if a popping sell signal does not materialize. He pointed out:
"Bitcoin had a bullish breakout from a symmetrical triangle on the four-hour chart and seems to be heading towards my target of $25,000. Notice there is a sell signal by the TD Sequential. If validated, expect a downswing to $20,900 before higher highs for BTC."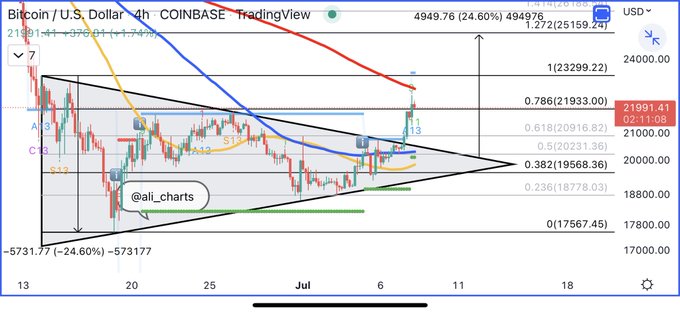 Source:TradingView/AliMartinez
Martinez had previously stated that $20,900 was a critical resistance, and whether this is flipped to support remains to be seen because Bitcoin was hovering around $21,800 during intraday trading, according to CoinMarketCap.
Is BTC edging closer to a higher high?
According to an on-chain analyst, Matthew Hyland, Bitcoin is getting closer to a higher high.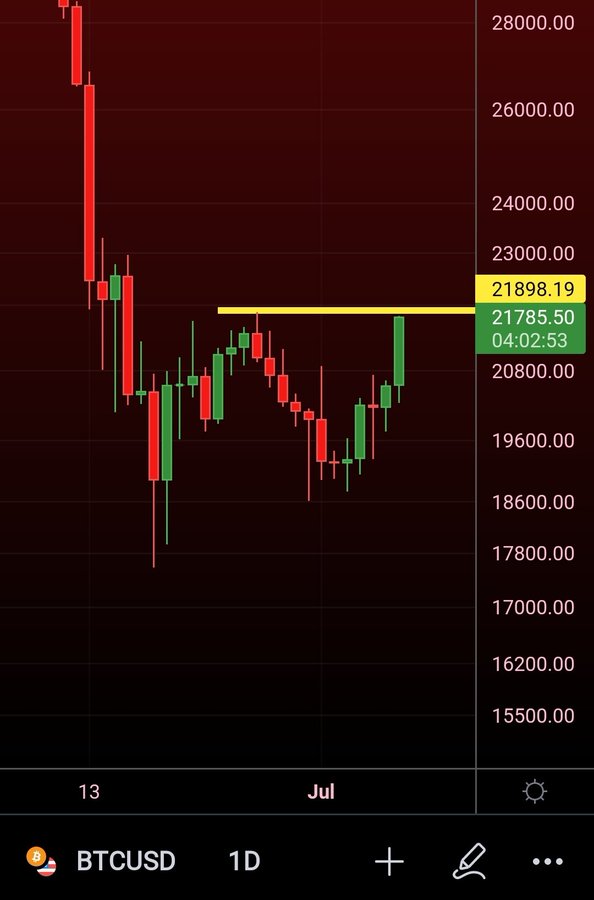 Source: MatthewHyland
The formation of higher highs and higher lows signifies a bullish trend, whereas lower highs and lower lows depict a bearish one.
Therefore, whether the higher high will form remains to be seen because this could set the ball rolling for upward momentum. 
Meanwhile, Mike McGlone, a senior commodity strategist at Bloomberg Intelligence, believes that if BTC adoption continues to tick, the second half of this year might become the centre stage for a bullish run. He explained:
"Bitcoin could be one of the greatest bull markets in history at a relatively discounted price to start 2H. Or the crypto may be a failing experiment in the process of being made redundant, like crudeoil. Our bias is that Bitcoin adoption is more likely to continue rising."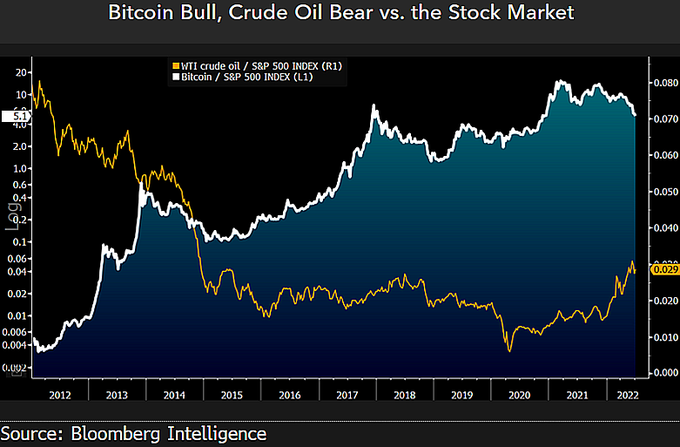 Source: BloombergIntelligence
On the other hand, the Bitcoin Lightning Network continues to scale heights because it recently reached historic highs. The Lightning Network boosts Bitcoin's capacity to undertake transactions more efficiently through micropayment channels, given that it's a layer two scaling solution. 
Image source: Shutterstock