The Bitcoin (BTC) Lightning Network continues going through the roof by making historic highs.
As a layer two scaling solution on the Bitcoin network, the Lightning Network (LN) boosts the blockchain's capacity to undertake transactions more efficiently through micropayment channels. It currently comprises more than 4,000 BTC.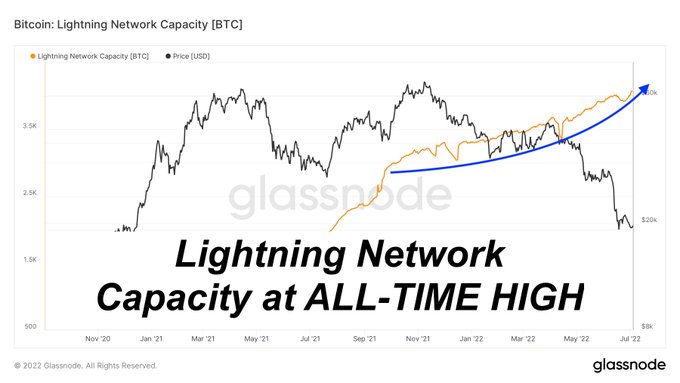 Source: Glassnode
Therefore, transactions on lightning networks are more readily confirmed, cheaper, and faster than that processed on-chain or Bitcoin mainnet (layer one).
The growth witnessed on the Lightning Network is happening amid Bitcoin's price being on shaky grounds, suggesting that the development for adoption is taking shape even if the price falls. 
Bitcoin has been hovering around the psychological price of $20K, with the leading cryptocurrency losing at least 70% of its value from the all-time high (ATH) of $69,000 recorded in November last year.
Tightened macroeconomic factors like increased interest rates have not benefited Bitcoin as the globe fights off heightened inflation.
Nevertheless, the Bitcoin Lightning Network is experiencing surging adoption because it attracts fees close to zero.
Leading investment bank Morgan Stanley noted that the LN would be more practical when undertaking small payments than a debit card. Therefore, it boosts Bitcoin's narrative about being a medium of payment. 
Previously, a report conducted by Arcane Research acknowledged that the continuous micropayment architecture provided by the Lightning Network had the potential to revamp the business models of content providers in audio, video, and gaming, among others. 
Image source: Shutterstock