After briefly slipping to the $21K zone, Bitcoin (BTC) continues to trade at levels last seen in December 2020.
The leading cryptocurrency was down by 9.94% in the last 24 hours to hit $22,668 during intraday trading, according to CoinMarketCap. 
Glassnode believes BTC is entering the deepest part of the present bear cycle, given that even long-term holders are experiencing losses. The market insight provider explained:
"With Bitcoin prices selling off to the mid-$20ks, a plethora of macro indicators suggest the market is entering the deepest phase of this bear cycle. Fundamentals have deteriorated, and even Long-term Holders are now realizing significant losses."
Is Bitcoin at rock bottom?
The top cryptocurrency is also hovering around the 200-week moving average, which is indicative of a market bottom, according to crypto analyst Lark Davis. He noted:
"The 200 week moving average for Bitcoin has marked previous bear market bottoms."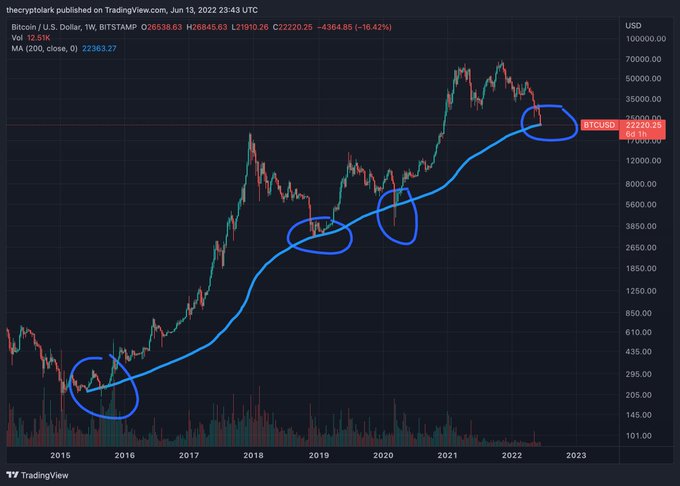 Source: TradingView/LarkDavis
This indicator reflects a long-term measure that shows four years of an asset's price action. 
Therefore, it remains to be observed whether Bitcoin will bottom out and change course because the 200-week moving average zone has previously acted as a reversal point.
On-chain insight provider Coinglass stated:
"In each of its major market cycles, Bitcoin's price historically bottoms out around the 200 week moving average."
Other analysts have also joined the discussion and opined that Bitcoin might be edging closer to the market bottom.
For instance, market analyst Ali Martinez said:
"Bitcoin has officially gone from Greed to Denial, from Denial to Anxiety, and from Anxiety to Fear. BTC has now entered Capitulation, which usually tends to kickstart a new market cycle based on the NUPL indicator. This means that the BTC market bottom is closer than ever."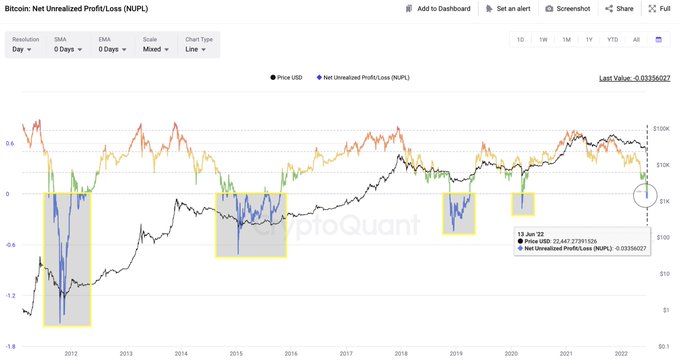 Source: CryptoQuant
Similar sentiments were echoed by crypto trader Rekt Capital, who noted:
"BTC is approaching RSI levels last seen at the 2015 & 2018 Bear market bottoms."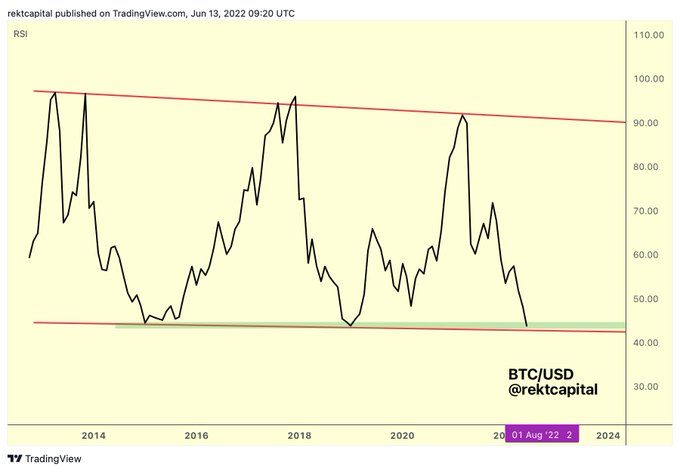 Source: TradingView/RektCapital
Bradley Duke, the Co-CEO at crypto ETP-provider ETC Group, noted that the recent LUNA collapse sent shockwaves in the entire ecosystem and this is what is partly causing the market to bleed, Blockchain.News reported. 
With the crypto markets being in extreme fear mode, time will tell how things shape up moving forward.
Image source: Shutterstock