Since knowledge feeds optimism and participation, Nigeria emerged as the top nation with the highest rates of optimism about Bitcoin's future at 60%, according to a study by Jack Dorsey-owned Block, Inc.
Other nations with high Bitcoin (BTC) optimism levels are India, Vietnam, Argentina, and South Africa, recording 58%, 56%, 55%, and 52%, respectively.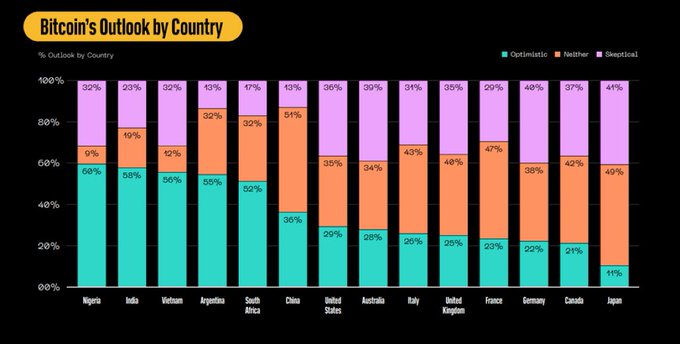 Source: Block, Inc.
Regarding crypto awareness, Bitcoin was twice as known at 88% compared to Ethereum at 43%. Dogecoin (DOGE) was third at 31%. Per the report:
"Awareness of Bitcoin is higher than that of any other cryptocurrency globally — by far — with 88% of adults surveyed having heard of Bitcoin specifically."
In terms of age groups, millennials and baby boomers led the pack with the highest BTC awareness levels. The study noted:
"Globally, millennials and baby boomers, in particular, have the highest levels of Bitcoin awareness at 92.5% and 89.2%, but all age cohorts have relatively high awareness."
Most respondents acknowledged that BTC was a stepping stone towards a more equitable economy. 
On the other hand, the lack of Bitcoin knowledge was the biggest stumbling block to purchasing it. Per the report:
"41% of those who say they have fair to expert levels of cryptocurrency knowledge say they are very likely to purchase Bitcoin in the next 12 months, compared with just 7.9% of those with limited to no knowledge of the topic."
Block, Inc., formerly Square, surveyed in conjunction with Wakefield Research between January 10 and 28 and interviewed more than 9,500 adults aged 18 and above in the three regions. 4,360 were from Europe, the Middle East, Africa (EMEA), 2,860 from Asia-Pacific (APAC), and 2,375 from the Americas.
Therefore, it doesn't come as a surprise that Nigeria takes the lion's share of Bitcoin optimism, given that 35% of Nigerians had entered the crypto space in a span of 6 months, according to a recent study by crypto exchange KuCoin. 
Image source: Shutterstock