Ethereum (ETH) continues to enjoy a bullish momentum above the psychological price of $3,000. 
The second-largest cryptocurrency based on market capitalisation was up by 0.36% in the last 24 hours to hit $3,102 during intraday trading, according to CoinMarketCap. 
Based on the surge in the number of Ethereum whales holding more than 10,000 ETH, Market analyst Ali Martinez believes this might trigger a new bull run. Martinez explained:
"Ethereum price is correlated with the number of whales with over 10K ETH. When whales began accumulating in Sept 2020, ETH rose by 1,300%. When they started offloading in May 2021, ETH fell by 62%. 60 whales have joined the network since Feb 2022, signaling the start of a new bull run."

Source: Alicharts
Ethereum set an all-time high (ATH) price of $4,850 in November last year as institutional investments took centre stage. Nevertheless, it has not been able to reclaim this level ever since. 
Meanwhile, ETH has been experiencing an upward momentum for the past few days, making profit-taking transactions surpass those in a loss. Crypto insight provider Santiment stated:
"There are currently 3.05x more transactions being taken in profit on the Ethereum network compared to transactions taken at a loss. If this ratio holds, it would be the highest relative profit-taking day since Oct. 20, exactly six months ago."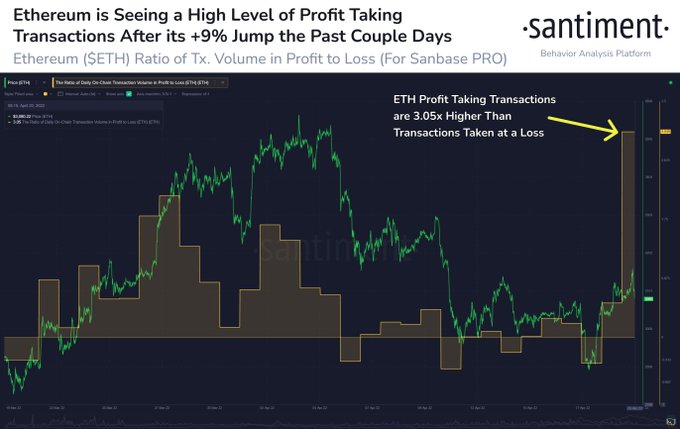 Source: Santiment
Furthermore, investors are showing bullish sentiment because the number of ETH on exchanges hit a 4-year low. The amount of Ethereum supply in centralised exchanges stands at 17.33%.
Source: Glassnode
Coins leaving exchanges show a hodling culture because they are transferred to digital wallets and cold storage. It is a bullish trend because it reduces selling pressure. 
On the other hand, Ethereum lead developer Tim Beiko recently revealed that the much-anticipated merge would not happen in June as planned. The merge will facilitate the transition of the Ethereum network from a proof-of-work (PoW) consensus mechanism to a proof-of-stake (PoS) framework. 
Image source: Shutterstock