Ethereum witnessed the largest crypto exchange outflow this year, given that coins exited in droves to the tune of more than 180,000 ETH.
Market insight provider IntoTheBlock explained:
"Largest Outflows in 2022 – over 180k ETH was withdrawn from centralized exchanges within a single day. The last time such a magnitude of ETH left exchanges was in Oct 2021, preceding a 15% price increase within ten days."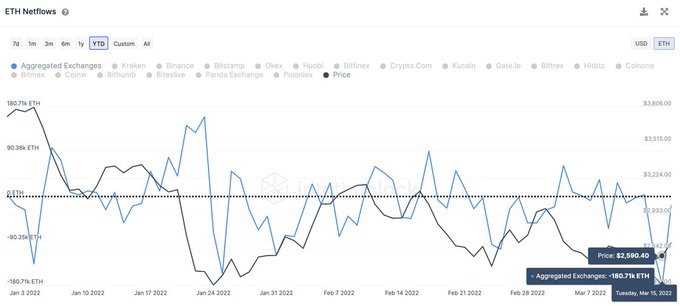 Source: IntoTheBlock
Cryptocurrencies leaving exchanges signals bullish because it illustrates a hodling culture, given that coins are transferred to cold storage and digital wallets, reducing selling pressure.
Therefore, the massive outflows suggest that Ethereum is experiencing scarcity and this coupled with burnt Ether are bullish signs. 
Since the London Hardfork or EIP-1559 upgrade went live in August 2021, the supply of Ethereum continues to be depleted based on the burning mechanism incorporated.
The non-fungible token (NFT) market has been making burnt Ether go through the roof. IntoTheBlock stated:
"NFT trading activity has been the largest burner of Ether since the introduction of EIP 1559 OpenSea activity alone has led to 230k ETH out of circulation. As NFT volumes peaked in January, Ether's net issuance dropped to historic lows of nearly -2%."
Ethereum is one of the sought-after networks in the NFT sector, which continues to take the world by storm.
ETH has been experiencing an upward momentum since the second-largest cryptocurrency surged past the psychological price of $2,500 observed on March 15.
With IntoTheBlock acknowledging that a 15% surge in Ethereum price was witnessed the last time massive crypto outflows were observed, it remains to be seen how things turn out this time around. 
Image source: Shutterstock