Ethereum (ETH) capped 2021 on a high with a 399% annual return. This significant run can be linked to the fact that more participants joined the ETH network at a rate of 1.53 million new addresses monthly.
Market insight provider IntoTheBlock explained:
"Ethereum users growth in a nutshell- There are 70.4m addresses holding $ETH- Just in 2021, it increased 18.36m. That means the network was growing at a pace of 1.53m addresses per month."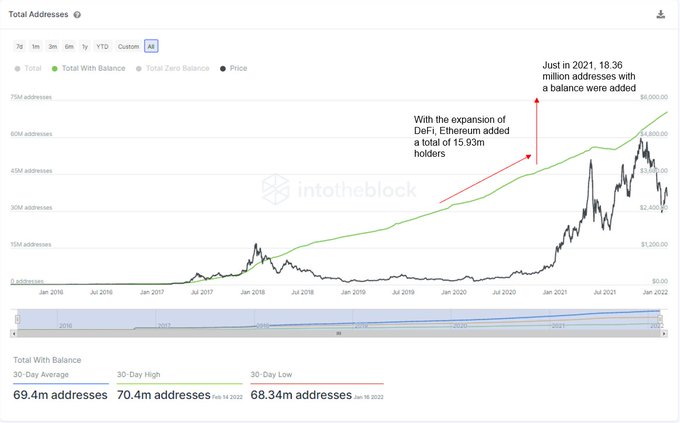 Source: IntoTheBlock
IntoTheBlock added that the number of addresses with a balance is an ideal metric needed to show Ethereum adoption, going through the roof.
Ethereum is also attracting all types of players, given that the number of addresses with between 0.1 and 1 ETH recently reached historic highs, collectively holding 1.78 million ETH.
Furthermore, 1 to 10 ETH addresses hit a new milestone by breaching the 1 million mark. 
Ethereum adoption also recently got a boost as median fees nosedived to a 6-month low, raising the question of whether a rebound was imminent because the second largest cryptocurrency has been trading below the all-time high (ATH) price of $4,850 set in November 2021. 
Is Ethereum eyeing the $5,000 level? 
Ethereum's eyes might be looking at the $5K level if the $3,200 area is broken based on the formation of a likely inverse head and shoulder pattern.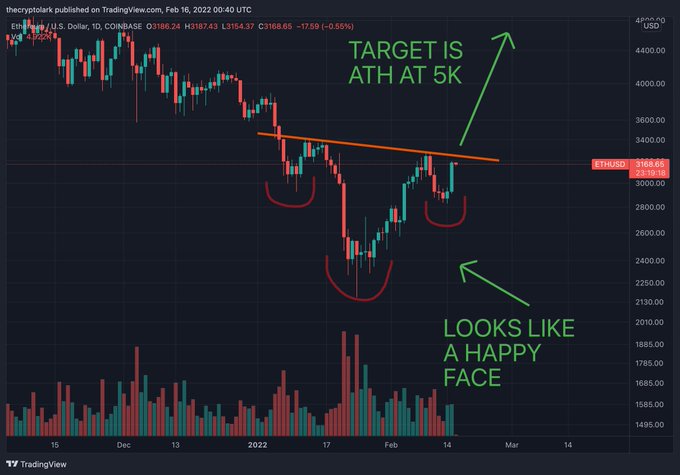 Source: TradingView
"Ethereum is forming a potential inverse head and shoulder pattern. Valid when we close above the orange line. Both Bitcoin and ETH look primed for big breakouts. Together these two assets form 58% of the entire market. If they go, then everything will go," market analyst Lark Davis stated.
Image source: Shutterstock