More participants continue joining the Ethereum bandwagon, given that addresses holding 0.1 to 1 ETH hit record highs.
Market insight provider IntoTheBlock explained:
"Ethereum adoption is not only about big players. The number of addresses holding between 0.1-1 ETH is currently at an at time high (ATH). In the span of 1 year, the number of these addresses increased by 98%, and now they collectively hold 1.78m ETH (increasing by 4.54% in 1 month)."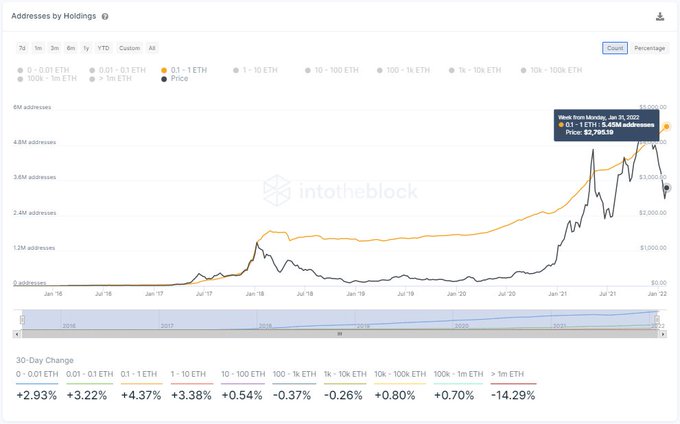 Source:IntoTheBlock
Therefore, Ethereum adoption isn't showing signs of slowing down because addresses having 1 to 10 ETH recently attained a new milestone by hitting the 1 million mark. 
Booming sectors like decentralized finance (DeFi) and non-fungible tokens (NFTs) are increasing Ethereum's use cases. 
Meanwhile, more investments continue trickling into the recently rebranded ETH 2.0 deposit contract. Crypto analytic firm Glassnode noted:
"The total value in the ETH 2.0 deposit contract just reached an ATH of 9,390,050 ETH."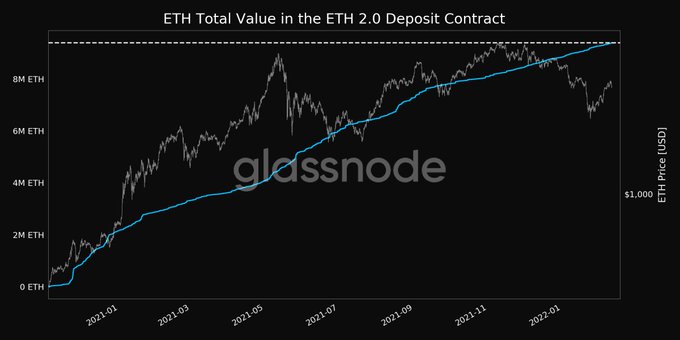 Source:Glassnode
Last month, the Ethereum Foundation rebranded ETH 2.0 to the consensus layer to reflect the evolution of the Ethereum roadmap because it had emerged as an inaccurate representation. Furthermore, Ethereum 1.0 was changed to the execution layer. 
The consensus layer seeks to transition the Ethereum network from a proof of work (PoW) consensus mechanism to a proof of stake (PoS) framework, deemed more environmentally friendly and cost-effective. 
On the other hand, Ethereum needs to break the resistance level at $3,500 for sustained bullish momentum. The second cryptocurrency based on market capitalization has not been able to surge above the psychological price of $4,000 since November 2021 when an ATH of $4,850 was set.
"Ethereum is well-positioned to advance higher as IntoTheBlock's IOMAP shows a small supply barrier at $3,500. Once $ETH breaks above it, expect fireworks," according to market analyst Ali Martinez. 
Image source: Shutterstock