After crossing the 3,000 BTC capacity for the first time in October 2021, the Bitcoin Lightning Network does not show signs of slowing down as its upward quest continues.
The Bitcoin Lightning Network capacity reached a new all-time high (ATH) at 3,436 BTC.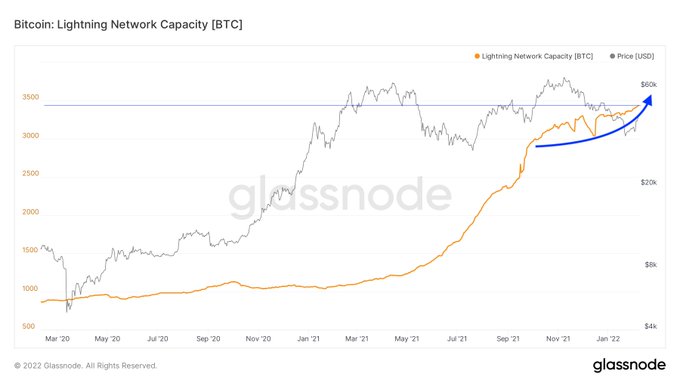 Source: Glassnode
What is making the Lightning Network tick?
As a second layer integrated into the Bitcoin blockchain, the Lightning Network carries out off-chain transactions, which are readily confirmed, faster, and cheaper than those undertaken on-chain on Bitcoin mainnet or layer one.
Therefore, it prompts micropayment channels that scale Bitcoin's capacity to execute transactions more efficiently. 
A previous study by crypto analytic firm Arcane Research noted that the utilization of the Lightning Network was transiting from online services to everyday use.
Arcane Research also acknowledged that this network could revamp the business model of content providers in audio, video, and gaming, among others, by availing a micropayment infrastructure.
Is Bitcoin experiencing a short squeeze?
The Bitcoin market has been sluggish since the start of the year based on massive liquidations that drove the price to lows of $33,000 recently.
Nevertheless, tables have turned because the top cryptocurrency has witnessed a 31.6% surge from these lows to record $43,450 during intraday trading, according to CoinMarketCap. 
Glassnode believes a short squeeze has prompted this price increase. The market insight provider explained:
"After three months in a persistent downtrend, Bitcoin has experienced a counter-trend rally, pushing above $44K. Short liquidation dominance has also increased, suggesting that a short squeeze is a partial driver of the move."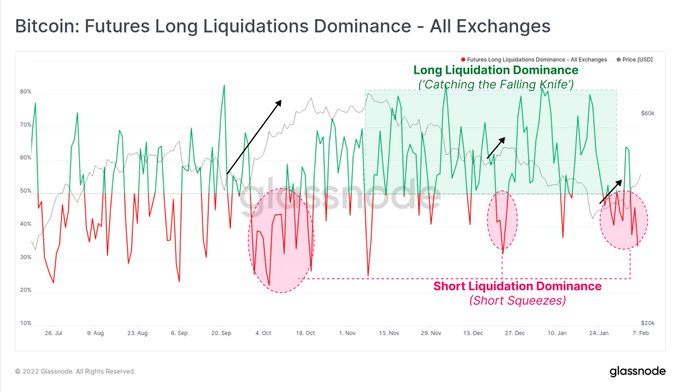 Source: Glassnode
With Bitcoin edging closer to a hyper-adoption phase, it remains to be seen how the top cryptocurrency plays out in the short term. 
Image source: Shutterstock