It might be not too late to jump on the Bitcoin bandwagon because the leading cryptocurrency is just getting to the inflexion point of hyper-adoption, according to a special report by international financial services giant Wells Fargo.
The "Understanding Cryptocurrency" report seeks to tackle the disparity about either being too early or too late to invest in cryptocurrencies. Wells Fargo offers a conviction that cryptocurrencies are viable investment vehicles through a global investment strategy team, but they are still early in their investment evolution cycle.
Per the report:
"Cryptocurrency adoption rates look to be following the path of other earlier advanced technologies, particularly the internet. If this trend continues, cryptocurrencies could soon exit the early adoption phase and enter an inflection point of hyper-adoption … for the internet, that point was the mid-to-late 1990s."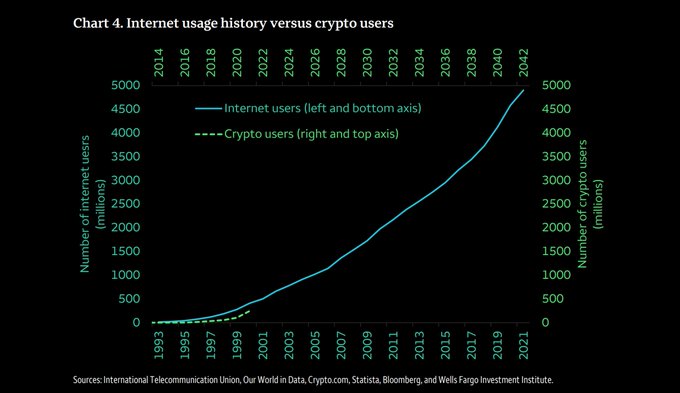 Source: Wells Fargo
From 1996 to 2000, internet usage grew from 77 million to 412 million. By 2010, the rate had grown exponentially to hit 1.98 billion, with the current global internet use sitting at 4.9 billion.
Therefore, Wells Fargo believes it's not too late to join the Bitcoin party despite the top cryptocurrency recording a compounded annual rate of 216% since its first transaction was recorded in 2010.  
The company noted:
"We see cryptocurrencies in the 'early, but not too early' investment stage, which is why we have emphasized investor education."
The report added that shakeout events are the norm in the early stages of investing, and cryptocurrencies are not an exemption, with at least 1,700 or 40% going bust following the 2017 shakeout event.
"Early-stage investing is often fraught with violent boom and bust cycles, as many a dot-com company and investor can attest from 20 years ago. More than 16,000 cryptocurrencies exist today, and if history is any guide, many will fail (or at least fail to scale)," per the study.
In December 2020, on-chain analyst Cole Garner noted that Bitcoin was at a critical inflexion point in its adoption journey as institutional investors joined. 
Image source: Shutterstock