Leading altcoins like Shiba Inu saw decent gains as the global crypto market value rose past $1.71 trillion on the strength of Bitcoin's climb above $42,000. Meme coins, on the other hand, still had the hearts of the crypto audiences, with Shiba Inu recording the largest market gains and Dogecoin, the top dog coin, remaining the most talked about crypto in social media after BTC.
Interest Surge In Shiba Inu
On Monday, the memecoin surged to $0.00002961, its highest level since January 18, as the cryptocurrency market saw fresh buying interest. SHIB's price has plummeted by nearly 80% from its all-time high of $0.00008870 prior to the retracement.
Daily increases of near to 25% and weekly gains of more than 36% were recorded by the meme token. SHIB also saw a remarkable surge in trading volumes, with almost $2.8 billion traded at press time, a 244% increase.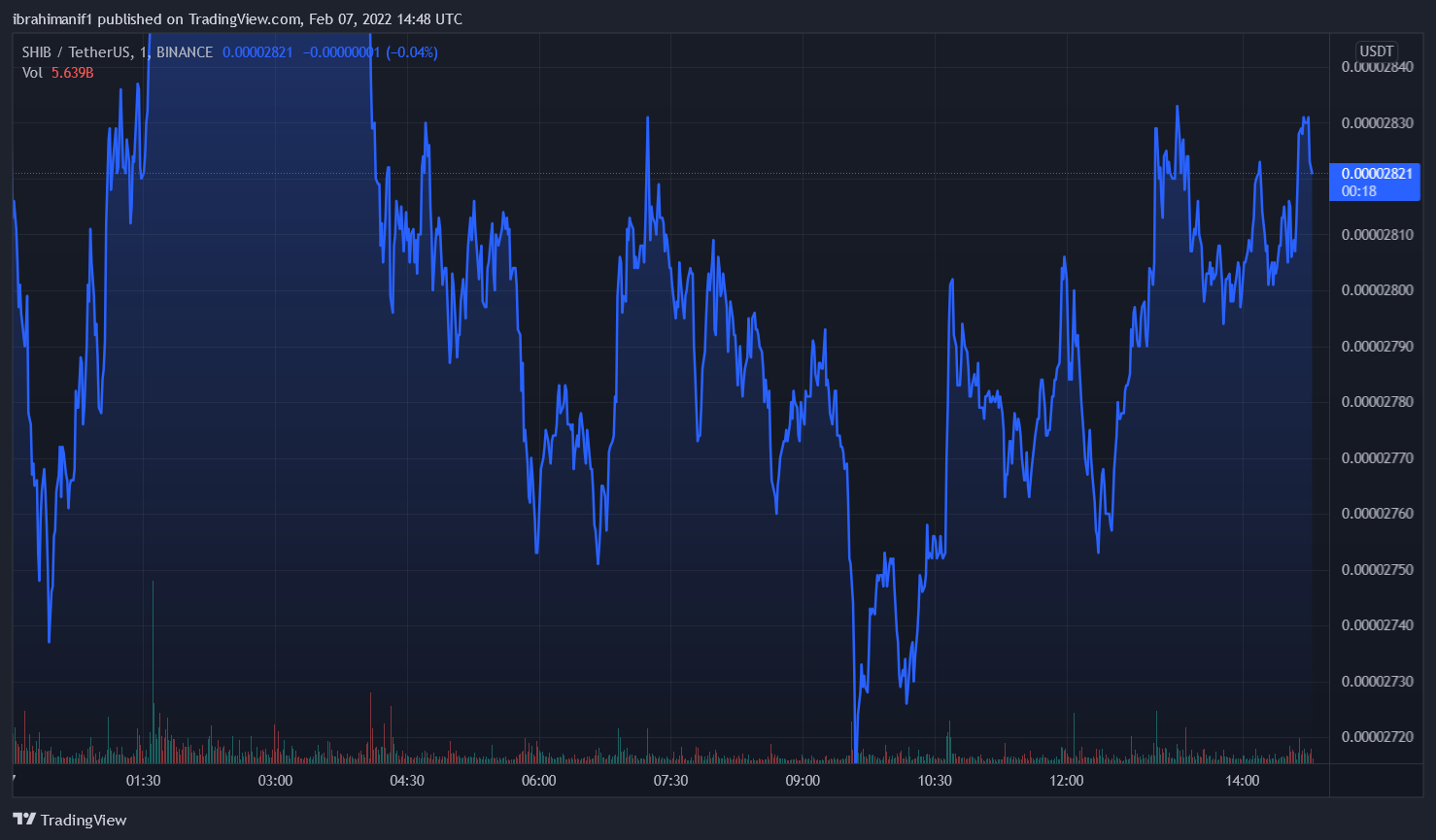 The 24 hours price chart of SHIB/USDT. Source: Tradingview
SHIB was the sixth most traded cryptocurrency by Coin Market Cap at the time of publication, following Tether, Bitcoin, Ethereum, Bitcoin Cash, and Binance USD.
According to Ishan Arora, Partner at Tykhe Block Ventures, a crypto hedge fund, the general crypto markets have been given a relief rally after weeks of persistent downtrend.
Ishan noted:
"Bitcoin and Etherum both bouncing off the lows have again given investors confidence in other coins such as Shiba Inu which have also bounced off weeks of downtrend."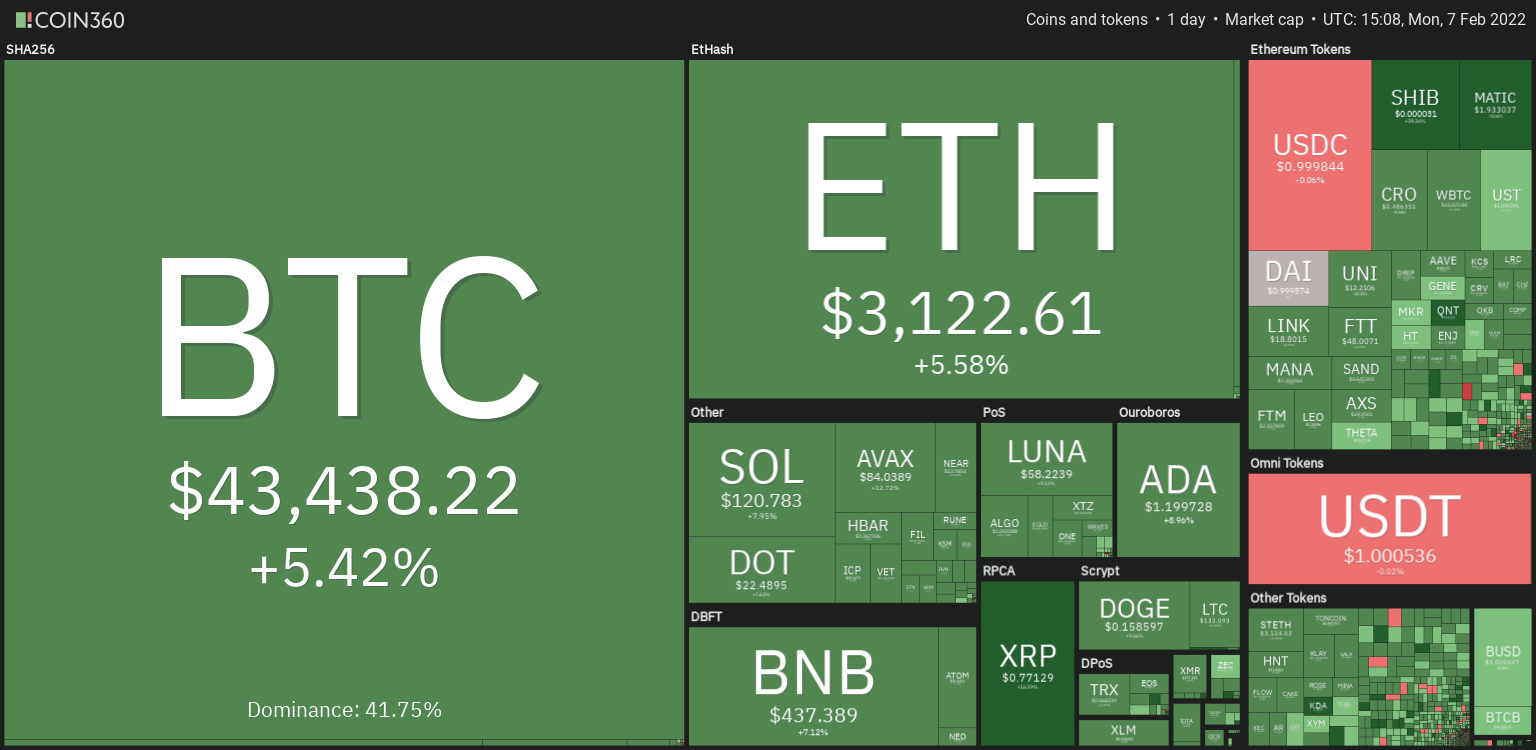 Crypto market turn green. Source: Coin360
Despite the recent rebound, Shiba Inu is still 72% below its all-time high, which was reached in October 2021, as the memetoken followed in the footsteps of the other altcoins.
Shiba Inu, also known as the 'Dogecoin Killer,' has a maximum supply of 589,735,030,408,323 SHIB, with a total circulating supply of 549,063.28B SHIB.
On the basis of a review of the tech charts, Shiba Inu's price consolidation and an on-chain analysis suggest prices are inching towards $0.000054, he stated.
Related article | Shiba Inu Enters The Metaverse, But Will This Help Its Price?
Dogecoin Still Rules Social Media
As a result, while SHIB may have a high chance of flipping DOGE (while it has in the past), the flipping may have to wait as DOGE's social media sentiment remains positive.
Notably, DOGE appears to have declined in popularity in comparison to SHIB, yet Dogecoin remains the most popular cryptocurrency on social media, second only to the king coin BTC. For example, the official Dogecoin Twitter account recently topped 3 million followers. With 4.5 million followers, Dogecoin is the second most popular cryptocurrency after Bitcoin. Shiba Inu comes in second with 2.7 million followers, but Dogecoin remains the most popular cryptocurrency.
For the time being, Shiba Inu's price has been boosted by retail enthusiasm and respectable trading volumes, as well as market-driven gains. Dogecoin rallies have been boosted in the past by Elon Musk-driven price increases as well as external news such as Tesla accepting the coin as payment for some Tesla-branded items.
So, as the meme token war continues, with Dogecoin still leading, it's unclear whether Shiba Inu will be able to surpass DOGE in the near future.
Related article | Recapping 2021 Memecoin Mania: Dogecoin, Shiba Inu, & More
Featured image from Unsplash. Chart from Coin360,and TradingView